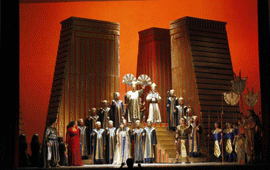 The Debut of the 'Musical Timisoara' Festival
Friday, 4 May 2012 , ora 12.19

The thirty seventh edition of the 'Musical Timisoara' International Festival celebrated also, at the Opera House in Timisoara, the sixty fifth anniversary of theatre life, precisely on 27th April, 2012. The gathering debuted with the traditional 'Aida', with an exceptional cast, especially vocally, because we were happy to listen to ample voices, beautiful, well driven and, of course, with a national and international notoriety.
After a break of several years, soprano Anda Louise Bogza returned to the Timisoara stage, and who, just arriving from Prague, played the leading role, next to the Bulgarian tenor, Kamen Chanev, Cluj-born mezzo soprano Liliana Mateiciuca, Craiova-born bass Sorin Draniceanu, and a guest from Bucharest, Stefan Ignat.
Even the mere listing of the main cast paints a picture of what happened that evening, because that, together with the stage setting and the orchestra conducted by the experienced David Crescenzi, assured an extraordinary and spectacular show. The musical performance of the interpreters was charming and stage wise, the characters were each outlined by each performer in its own way, without a real connection between the heroes of the drama. Primarily I would talk about the musical performance of a trying opera, the precise reason why it is so popular with the audience, audience who literally invaded the hall and who applauded enthusiastically, because it was truly a successful festival debut and anniversary.
Anca Florea
Translated by Florina Sămulescu
MTTLC, Bucharest University