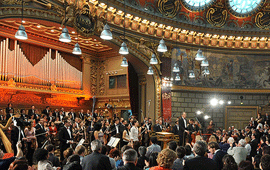 A New Concert by the Romanian Youth Orchestra - Press Conference
Friday, 4 May 2012 , ora 12.20

The press conference organized by Lanto Communication was held on 3
rd
May, 2012. Its theme: the concert "The Music and Magic of Dance", which will take place on Saturday, 12
th
May, at 19:00, at the Romanian Atheneum. The concert will be performed by the Romanian Youth Orchestra conducted by Cristian Mandeal and will delight the audience with a vast repertoire containing important works by composers such as Edvard Grieg, Pyotr Ilyich Tchaikovsky, Astor Piazzola or Grigoraș Dinicu.
The concert will also offer refreshing solos by instruments such as the contrabass, viola and harp, which rarely have this opportunity in our musical stages. Conductor Cristian Mandeal, cellist Martin Cazacu and Dorin Ioniță, General Manager of Lanto Communication, offered information about the concert and other projects by the Romanian Youth Orchestra.
They talked about the opportunities the Romanian Youth Orchestra offers to young musicians in Romania, about the kind of musical educations they receive and about the chances musicians have to distinguish themselves both in the country and abroad.
They also mentioned the Romanian Youth Orchestra's participation in the Sergiu Celibidache Festival, the recording of a CD with Romanian music in the fall, and other surprise-events the orchestra has in store for the audience.
Radu Mihalache
Translated by Ioana Ristulescu
MTTLC, Bucharest University