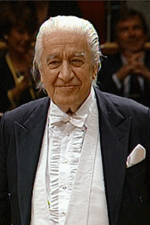 The Sergiu Celibadache Festival - Press Conference
Friday, 4 May 2012 , ora 9.50

Year 2012 was named The Sergiu Celibadache UNESCO Aniversary due to the fact that on 28
th
June we will celebrate 100 years since the birth of the legendary conductor Sergiu Celibadache. The Sergiu Celibadache Festival opened on 3
rd
May, 2012, with a press conference that was held in the Romanian Athenaeum's foyer. Before the press stood the director Sergiu Ioan Celibadache, the son of the conductor and the president of the Sergiu Celibadache Fundation, the event organiser, Andrei Dimitriu, general director of Bucharest Philharmonic, conductor Mark Mast, the event's artistic director, Adela Vrânceanu, communication director of the festival and Dana Deac, TVR1 department director.
Until the 7th July, the programe of the festival that will take place every other year will consist of 8 concerts and recitals, seven master classes presented by important names of the international music scene, video projections, a Celibadache symposium, a photo exibition, dialogues between artists and book signings. On 28th June, the birthday of Sergiu Celibadache, in Roman, in his town, a bust of the conductor will be unveiled.
The event will end on 7th June with a concert that will play, for the first time, a piece composed by Celibadache: Romanian suite in 8 parts called "Haz de necaz". Until then, on 9th May the numismatic memorative coin dedicated to the great conductor will be issued under the aegis of the Romanian National Bank.
On 4th May, beginning from 6:30 p.m., at the Digiplex Cinema situated in Băneasa Shopping City, the documentary movie called "Celibadache's Garden" will be screened.
The movie produced by Sergiu Ioan Celibadache is a portrait of the conductor, followed at every step on tours and during practice with the Munchen Philharmonic Orchestra.
Alexandra Cebuc
Translated by Vlad Bîrsan and Oana Marina Siliste
MTTLC, Bucharest University