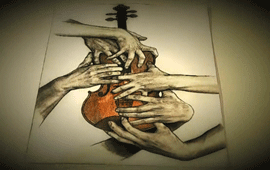 The 'Stradivarius' Tour Begins
Monday, 7 May 2012 , ora 11.46

After I saw the poster of the "Stradivarius - Obsessions" tour in the newspapers, after I came across numerous official statements that announced its imminent beginning, I received the invitation to attend on 3 May, 2012, at the Opera Hall of the Bucharest National University of Opera, a preview of the show, a moment that actually replaced a traditional press conference. I was very curious, because from what I have seen so far, 2012 brings a brand new show.
Alexandru Tomescu will combine classical music and nonverbal theatre with the participation of actors Ana Pepine and Paul Cimpoieru.

Dance and nonverbal theatre
In the pitch-black of the hall a spotlight lit up, falling on Alexandru Tomescu's shoulders like a cloak. From the hall's silence, the first accords of Sonata I by Eugene Ysaye took shape opening at least two worlds. Just like in a novel in which there are several narrative plans that communicate one with another, Ysaye's music embodied several spheres. The first one would be that imagined by actors Paul Cimpoieru and Ana Pepine. They powdered the voiced discourse with expressive gestures, with symbols and metaphors that incited the imagination and made you leave the daily depression. The two young actors depict the actor's struggle with his own ideas, his obsession for perfection.
During the Sonata II by Eugene Ysaye, dedicated to Jacques Thibaud, we could see the battle between the violinist and the violin brought to life through a very ingenious idea: the shadow theatre, a method that accentuated the mystery of the artist's obsessions. A violin was projected behind a screen, and inside that violin Ana Pepine's silhouette could be seen, the soul of the instrument, who is inviting the violinist, Paul Cimpoieru, to a hopping and after that slow dance.

…And the music…
But because in the beginning of this chronicle I was talking about several worlds, now I would like to refer to Alexandru Tomescu and Ysaye's music. These sonatas for solo violin have a poetic and an overwhelming force, but a tremendous difficulty as well, that Alexandru Tomescu can handle. I believe that after last year's Paganinian marathon, there is nothing that can stop this violinist.
On the Stradivarius played by Alexandru, under the artist's bow, Ysaye's music has the necessary brilliance and it is spectacular, which is why I have to recommend this show, whose concept belongs to Ioana Drăgulinescu. The idea's originality is supported by first class artists, Alexandru Tomescu, Ana Pepine and Paul Cimpoieru, who can be seen at the Bucharest National Opera, on 29 May.
To be informed about the tour itinerary, access the web page www.turneulstradivarius.ro.
Petra Gherasim
Translated by Dobrin Irina
MTTLC, Bucharest University