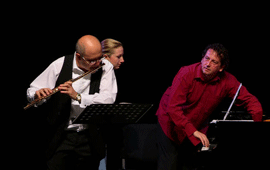 The 'Golden Flute' Tour Comes to an End
Monday, 7 May 2012 , ora 9.30

The 'Golden Flute' Tour, organised by Radio Romania Cultural and the Accendo Cultural Association, which began in Brașov on 25
th
April, ends at the 'Ștefan Iordache' National Theatre in Caracal on Monday, 7
th
May. Over 2000 spectators will have been bewitched by the extraordinary sound of Ion Bogdan Ștefănescu's Muramatsu flute, the only one of its kind in our country. Together with pianist Horia Mihail, Ion Bogdan Ștefănescu has travelled over 2000 kilometres throughout the country, in his tireless effort to make this instrument known.
If the flute is said in mythology to have enthralled gods, the over 2000 spectators who heard it live, together with those who listened to the Radio Romania Cultural and Radio Romania Music broadcasts were bound to be charmed by the wonderful notes produced by this instrument: 'Touching on the divine, on perfection itself, what can I tell you. This is an utterly extraordinary instrument, not only because it is made of gold, but also because it can bring one closer to the divine, to the utmost beauty.' 'It is a wonder. I think it's an excellent idea. To me it sounded like a bird's trill in summer.' 'It sounds beautiful. I have never listened to one before.' - were some of their comments.
As to the artists, their greatest joy was the roars of applause: 'Of course I somehow counted on the audience's response. It is only natural, it would have been sad had it been otherwise. The Romanian audience is very good, responsive, warm and enthusiastic, they warm up quickly and do not quit, do not give up, which I think is an exceptional gift to any artist. We all ended up enjoying the fact that we were together.' Ion Bogdan Ștefănescu says.
The programme chosen by the two great performers was particularly attractive and included pieces by Bach and Mozart, Dvorak or Poulenc, as well as the works of contemporary composers, such as Taktakishvili and Mower, which gave the audience the opportunity to see the two star artists in less conventional situations: 'This piano improvisation by Ion Bogdan Ștefănescu only happened in Bucharest. He got the idea a few days ago. The fact is that he let me know he would do it and he did. The moment the audience starts applauding while you're still playing you feel like a diva, like a rock star. Of course, the music... we are talking about Mower's Sonata Latino, which is very jazz-like and allows for such things.', Horia Mihail declared after the concert in Bucharest.
The tour was a veritable crusade meant to gain the love of the public for this instrument, which is less known in solo performances and Ion Bogdan Ștefănescu was tireless in promoting it: he played passionately, he presented the flute exhibition organised by Wiener Flötenwerkstatt, he listened to the recitals of students who had come to receive advice from a master, he gave dozens of interviews.
Ion Bogdan Ștefănescu started his artistic activity in 1983 at the age of fourteen, when he made his debut as a soloist on the stage of the Romanian Athenaeum, in a concert by Vivaldi, accompanied by the Bucharest Youth Orchestra. Since then, Ion Bogdan Ștefănescu has had a very intense artistic activity, as he gave countless recitals and concerts both home and abroad, in England, France, Spain, the Czech Republic, North Korea, Japan, the USA, Hungary, Italy, Germany, Holland, Switzerland, Sweden, Norway; he participated in important festivals, played music in several theatre, ballet and film performances made by Romanian and by foreign directors. Flutist Ion Bogdan Ștefănescu has won several national and international competitions and has received important honours in recognition of his artistic merits.
Ion Bogdan Ștefănescu is a founding member of the 'Procontemporania', 'Profil' and 'Barock Orchestra' groups. He is also a member of the 'Contraste' trio and of the 'George Enescu' wind instruments quintet. Over the years he has made an impressive number of recordings in collaboration with the Romanian Radio Society, many of which are kept in cardex, as well as with the Romanian Television or with foreign radio societies which requested it, such as Deutschlandfunk - Köln, WDR, Bayerische Rundfunk, DRS 2, Société de Musique Contemporaine, Lausanne.
Horia Mihail is one of the most appreciated Romanian performers, who has given thousands of concerts both home and abroad. 'The rhythmic subtlety and the articulation of mood and tone colour was a kind this music rarely receives' the Boston Globe read after one of his performances. Horia Mihail has given concerts, as well as solo and chamber music recitals in eighteen countries on four continents and his performances were broadcast by radio and TV stations in Romania, Belgium, England, Denmark, Hungary, the USA; he has made recordings together with the State Radio Orchestra of Romania. At the present time he is a concerting soloist of Radio Romania and the Brasov Philharmonic.
In 2011 the artist made a national tour of solo recitals with Franz Liszt pieces alone, called 'The travelling Piano - In the Footsteps of Franz Liszt', which provided the material for a live CD, issued by the Casa Radio Publishing house, as part of a project to be continued in the years to come. The 'Violin Duel - Stradivarius versus Guarneri' project has brought him together with violinists Liviu Prunaru and Gabriel Croitoru on the stages of six Romanian cities, while for the 'Three Divas' project he joined the famous singers Ruxandra Donose, Teodora Gheorghiu and Leontina Văduva in Iași, Cluj and Timișoara. In the last two years, the musician has given recitals and concerts in Berlin, Prague, Munich, China, Italy, Bulgaria, Denmark and Germany. His projects for 2012 include, among other things, a second edition of the 'Travelling Piano' national tour between 22nd May and 30th June and 'The Violin Duel', together with violinists Liviu Prunaru - Stradivarius and Gabriel Croitoru - Guarneri, from 12th to 25th September.
Organised by: Radio Romania Cultural and the Accendo Cultural Association
Co producer: Radio Romania Regional
Sponsors: Revalid, Leumi Bank, JTI, Athenee Palace Hilton, AdeGas Oil, Hotel Pantex, Wiener Flötenwerkstatt
Cultural partners: Direcția Formații Muzicale Radio România, Radio Romania Reșița, The Brașov State Philharmonic, The Pitești State Philharmonic, The Caracal National Theatre, The 'Radu Șerban' Cultural Centre in Caracal, The Old Music Society
Media partners: Radio Romania News, Radio Romania Music, The Money Channel, COCOR, Cocor Media Channel, Șapte seri, România Liberă, Academia Cațavencu, Be Where, Observator Cultural, Cultura, TVR Cultural, Style Report, Humanitas Bookshops; websites: Liternet, Agenția de carte, ArtActMagazine, Style Report, Crazy Deal.
For details about the tour click on the following link: www.flautuldeaur.ro

Translated by Roxana-Andreea Dragu
MTTLC, Bucharest University