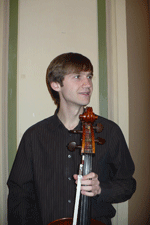 Tuesday Evening Season
Wednesday, 9 May 2012 , ora 9.33

In the
Tuesday Evening Season
a young musician, well known to the Romanian audience in the recital formula as well as a member of the
Violoncelissimo
ensemble or as a soloist of important symphony orchestras in the country, has returned to the small Hall stage of the Romanian Athenaeum.
Cellist Octavian Lup - a constant presence on our stages as far back as the first years of studies at the "Sigismund Toduță" Highschool from Cluj-Napoca - is presently studying for a master degree at the Bucharest National University of Music in maestro's Marin Cazacu class. His recital on 8 May, 2012, was accompanied by pianist Daniela Bădoi. I didn't notice too much audience, only half of the small Hall seats of the Athenaeum being taken.
Courageous approach, technical accuracy, powerful sound
The programme proposed by the young cellist - although short - managed to concentrate all the necessary ingredients for a successful recital, combining doses of accessibility, technical difficulty and lyricism. Octavian Lup and Daniela Bădoi first presented a fragment from the Fantasy pieces op.73 by Robert Schumann, in which I noticed the cellist's propensity for melancholic passages typical of the German composer, but a certain exacerbation of the nuances too which created an approximate intonation here and there. Sonata no.3 op.69 in A major by Ludwig van Beethoven followed; the good coordination between the two musicians, the constant and bravely approached tempos, the technical accuracy and the powerful sound of the young cellist brought the most powerful and well-deserved applauses for this remarkable interpretation. The last creation in the programme, Sonata in D minor by Claude Debussy, was very well presented from a technical point of view, but the subtleties of this score were brought only partially to light by the two musicians. Thus ended a recital of quality, through which cellist Octavian Lup reconfirmed an important position among the young generation of Romanian instrumentalists.
Dan Ghineraru
Translated by Dobrin Irina
MTTLC, Bucharest University