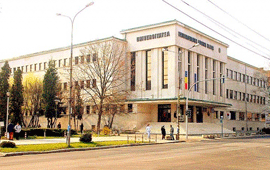 About Literature and Music in Sibiu
Tuesday, 15 May 2012 , ora 9.14

Between the 10
th
and 12
th
May, 2012, a conference about literature and music took place at the Faculty of Letters and Arts in Sibiu. The event was organised by the 'Lucian Blaga' University in Sibiu and the Department of English and Creative Writing of the University of Roehampton. .
During these three days, participants from England, the United States of America, Australia, Canada, South Korea, Romania, China, Taiwan, spoke about how literature can be written using musical means, and how music is ever present in the life and works of some of the most varied writers. The subject of many disscutions was Michael Ondaatje and his novel where the main character is Buddy Bolden, considered the pioneer of jazz; also Kazuo Ishiguro and his collection Nocturnes; and Aldous Huxley, with his narrative style which uses elements from the polyphonic technique and his love for Bach. Apart from the novelists, the orientalist Edward Saïd was quoted, who said that the diaspora is always contrapuntal, because it lives in two cultures - the maternal and the adopted one - and the seven liberal arts of Ancient Greece were mentioned - music being one of them.

Representative of Musicology
Most of the participants at the conference about literature and music in Sibiu were representatives from Faculties of Letters and Foreign Languages; musicology was represented by
PhD, Professor Valentina Sandu-Dediu, who did a presentation on Robert Schumann and his music's connection with literature, for example the writings of E.T.A. Hoffmann. Professor at the Faculty of Foreign Languages and Literatures at the University of Bucharest and director of the programme 'Ascultați și recunoașteți'(Listen and Recognize), on Radio Romania Music, Alina Bottez spoke about the play "A Midsummer Night's Dream" translated into music by Purcell, Mendelssohn, Britten or Pascal Bentoiu.
Lipatti and Enescu - the connection between Romania and Taiwan
I just want to add how happy I was that one of the participants, a theatre professor at the National Taiwan University, upon finding out that I work at the classical music station of Radio Romania told me about his pleasant relationship with the Romanian music: he told me about the third discography version of Enescu's work Oedipe, which he bought, and about his admiration for Ileana Cotrubas, about the sadness he felt when Sergiu Celibidache cancelled a concert in Taiwan, and to which he had bought a ticket, about how much he loves Dinu Lipatti and how happy was he when he discovered, by accident, one of the houses where the pianist lived in Bucharest.
Maria Monica Bojin
Translated by Elena Enache and Florina Sămulescu
MTTLC, University of Bucharest