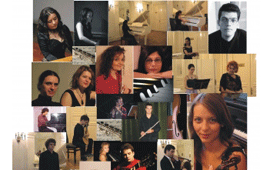 Chronicle of the Hungarian Festival of Music
Tuesday, 15 May 2012 , ora 9.16

Between 9
th
and 11
th
May, 2012, the eighth edition of the contest - festival of promoting music written by Hungarian composers took place at the Hungarian Cultural Centre in Bucharest. Twenty-six contestants were competing, and sixteen of them made it to the final audition and finally fifteen contestants came before the jury, that I myself was part of. The president of the jury was maestro Ludovic Bascs, and the other three members were Manuela Giosa from the National University of Music Bucharest, Ioan Dobrinescu, our colleague from the radio and last but not least, Toth Istvan, the founder of the event, former director of the Hungarian Cultural Centre. The young people from Bucharest and from all the country benefited from this experience, especially since the jury was very honest and had a minimum dose of artistic partiality. First of all, it counted everyone's level of making music, how strictly they followed the score. Together with opera by Liszt, Bartok, Kodaly and other Hungarian composers, the programmes of the contestants listed also universal composers.
The Audience Choice Award went to the Olah brothers, Mathias-cello și Boglarka-piano, from the Music Academy in Cluj. Third place went to Elida Tîrțopan and Ioana Cojuharov from the National University of Music Bucharest. Second place to Sanziana Mircea - piano, from the Koln University and first place to Szasz Magor - double bass who performed together with Viorica Boerescu, professor at the National University of Music Bucharest.
The contest's eight editions created a tradition in Romania, and the awards, financially modest, are important because of the recitals they will perform in autumn, the winner of the first prize in Rome, the second in Vienna, and the third in Prague. The model of the contest is worthy of being copied. How about a contest at the Cultural Centre in Paris for promoting the Romanian music, for example?
Ecaterina Stan
Translated by Elena Enache and Florina Sămulescu
MTTLC, University of Bucharest