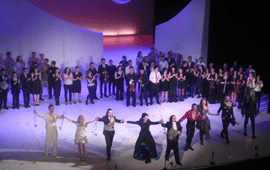 Those Who Don't Take a Chance Don't Win
Tuesday, 15 May 2012 , ora 9.29

To stage Mozart's
'Don Giovanni'
, 'the opera of all operas' as a student production - even having at your disposal the hall and the logistics of the Bucharest National Opera - is an ambitious and risky enterprise. But those who don't take a chance don't win, at least experience wise, which is so important, especially at the beginning of an artistic road.
At Saturday's premiere (12th May, 2012), the National University of Music Bucharest had the greatest difficulties, being unfamiliar with the score and with the tempo - sometimes very alert - demanded by conductor Gabriel Bebeselea. It was also disturbing the defective intonation of Daniel Filip, the interpreter of Il Commendatore, in the final scene his voice being excessively amplified. Madalina Barbu, while also having slight accuracy issues, managed to portray a worthy Zerlina, together with Daniel Pascariu, an agreeable Masetto. Florina Ilie, who played Donna Elvira, was too lyrical in her sonority, but had an acute registry, beautifully matched, while Stanca Manoleanu - a promising voice as Donna Anna - visibly and dangerously overstressed her resources, and thus being forced to give up on the aria in act II. Ionut Hotea, as Don Ottavio, left a good impression, creating out of the demanding 'Il mio tesoro' aria one of the most successful musical moments of the evening, just as Jean Kristof Bouton and Radu Ion - Don Giovanni and Leporello - impressed with their reliable, consistent quality and persuasive evolution throughout the entire performance.
It seemed that the musical (Mihail Virtosu, Bogdan Voda, Vlad Agachi) and stage preparation that the performers benefited from was very serious. I appreciated the care in conveying the Italian text correctly - including the double consonants - and expressively, surpassing its simple use as a singing prop. I admired the efforts of the producer, Anda Tabacaru Hogea and of her assistant, Catalin Voineag, to accurately portray the difference between the characters and their credible relation; efforts that were corresponded by the young artists' eager performance and real capabilities. And the audience, in big numbers and generous, rewarded them with prolonged applauses at the end.
Ligia Ardelean
Translated by Florina Sămulescu
MTTLC, Bucharest University