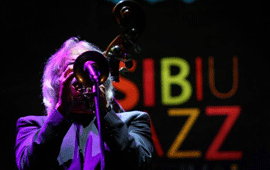 Sibiu Jazz Festival - The New Synonym for 'Music' is 'Harold Lopez Nussa Quintet'
Tuesday, 15 May 2012 , ora 9.31

Before I had a chance to listen to the young men which make up the quintet of the Cuban pianist, Harold Lopez Nussa, on Friday, 11
th
May, in Thalia hall, at the Sibiu Jazz Festival, I believed that a
classic
chamber band requires a lot of time for its members to develop a spiritual bond that makes them feel one another. I realized then that what a jazz quintet needs to be able to pull that off, is either a moment or an eternity - and it's even more improbable, and all the more miraculous, that jazzmen, performers of a music that is essentially based on improvisation, to be synched and coherent. To be a jazz player, you need the imagination of a composer; you almost have to be a creator, and not only a performer.

A Story Continuously Unfolding
I also thought I had found the reason I liked jazz: because it's constantly picking your curiosity. You ask yourself, with every second that goes by, where the music will go, where it will lead you. You never know the answer; you are always taken by surprise - but what a lovely surprise it is. And, I also thought, during the Harold Lopez Nussa Quintet concert, that the instruments are made to produce sounds and thus music, and that the authentic music is the one produced by man with the help of a musical instrument.

Definitions Given to the Cuban Musicians
Pianist Harold Lopes Nussa, with his technique, certainty and skilfulness, brought Lang Lang to my mind. The saxophone and the trumpet that accompanied him as musical instruments had an extraordinary sonority, the contrabass with pinched chords was especially virtuoso, and the percussion - which included in a duo recital with a piano the sensitive membrane of an amplifier's speaker as a musical instrument - was extraordinary.
After the encore given by Harold Lopez Nussa quintet, I found out some opinions from the ones that had listened to it.

Opinions
'Extraordinary. What I loved about them is that they brought something different to what I have seen in the past years. Encantada, the way they say it in Spanish.'
'It was very beautiful and nice, the way they were as a group. They played very well' - electronic engineering student.
'I also liked them. I liked the way they understood each other, the chemistry between them. And the sound, I mean the classical jazz combined with Latino elements' - Economic Science student.
'All of them are true musicians. The pieces were very nicely elaborated. It is a kind of music which is very close to where they came from, from Central America: an enjoyable music, interpreted with professionalism' - a musician.
Maria Monica Bojin
Translated by Florina Sămulescu
MTTLC, Bucharest University