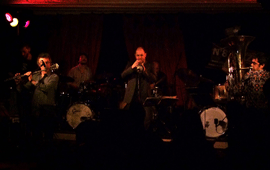 Sibiu Jazz Festival, or How Does the Dream of an Elephant Look Like
Tuesday, 15 May 2012 , ora 9.33

Out of the Afro-Americans music who sang their homesickness and with which the world tried, afterwards, to forget, in the clubs in the 1920s and 1930s, about the prohibitions, jazz became, after more than a century, a connoisseur's music. It is complex, difficult enough to follow; it certainly demands a lot of your attention. And, just like classical music, it is built upon some rules, not only for the performers but, also, sometimes, for the listeners.
On Thursday, 10th May, 2012, during Sibiu Jazz Festival, the seven members of the Belgian band Rêve d'éléphant were on concert: three percussionists, an electric guitar and three brass winds particularly virtuosi - flute, from piccolo to bass, trumpet and trombone alternated with tuba. They played in a Balkan melancholic style, in an atonal style in which everything that holds the music together is the rhythm, in a rock style with influences from Björk; to follow the birth and the evolution of the complex melodies, as well as the careful artistically and technical performance meant a joy of the senses and of the intellect.
Excellent performers, especially the three blowers, of some works at times organized with great attention and carefully sought after melodic coherence, with moments of free jazz, polyphonic and polyrhythmic, the Belgians from Rêve d'éléphant performed a concert from which the artists came out very tired and we, the public, very satisfied.
An alternative to current offers and captivating chaos - this is how the presence of Rêve d'éléphant band at Sibiu was described.

Opinions
'It was a very interesting concert, a very complicated music - there was nothing practical, rhythm or melody. It was a total chaos, but that was the interesting part, that's what made it so charming. I'm mathematics - computer science student.'
'A beautiful, quality concert. My daughter studies piano and we wanted to come into contact with something else, not only what you can see on television, to come into contact with a different type of music. I'm a nurse.'
'I thought it was a beautiful concert, I liked the instruments and how they played the music. My name is Danut and I'm eight years old.'
At the end of the concert the Rêve d'éléphant septet held, I talked to Michel Massot who played the trombone and the tuba:
'It was a varied musical journey and we gave a lot of thought about how we will be received, but the audience was fantastic. We played jazz, but I'm not a jazz musician, at least I don't see myself as one. We definitely have a certain similarity with jazz, but I'm just trying to make music. We wanted to pick the best songs for this concert, the ones with the best structure - I'm also Rêve d'éléphant's composer and I can tell you that it takes quite a lot of my time to compose the music we perform. I don't know what the listeners thought - if it was jazz or not, but I saw that the audience was warm, truly amazing.'
Maria Monica Bojin
Translated by Florina Sãmulescu
MTTLC, Bucharest University