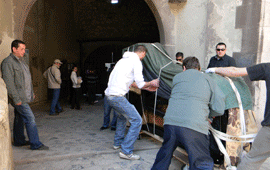 The Travelling Piano Tour is Back
Thursday, 17 May 2012 , ora 9.42

The Travelling Piano,
the extraordinary tour of the pianist Horia Mihail, is now back after last year's success with a new edition to be held between 21
st
May and 30
th
June, 2012.
For 50 days, the pianist Horia Mihail will hold 22 concerts and recitals in 20 cities in Romania (with a postscript in Chisinau on 11th July, at the Piano Nights International Festival), crossing the country from North to South and from East to West, from Baia Mare to Caracal and from Mamaia to Sânnicolau Mare.
The travelling piano will accompany him in some of the places where there are no high performance concert pianos that can allow organising such events.
On 30th June, in the city where the famous composer Bela Bartok was born, The Travelling Piano - the second one, a Bluthner provided by the Romanian Radio Broadcasting Company for this three-year project, initiated and directed by Radio Romania Cultural and the Accendo Cultural Association - will be consigned to the local community of Sânnicolau Mare.
The first edition of this tour was held in April 2011, in 12 cities, marking Franz Liszt's 200th birthday, and was conceived following the example of the famous tour of the famous romantic pianist and composer, held between 1846 and 1847 in the Romanian lands. While Liszt would travel and hold concerts on an Erard piano that accompanied him everywhere, the first Traveling Piano, a Steinway concert grand piano, left the Radio Hall along with pianist Horia Mihail and the technical team heading for cities where there are no such instruments - Hunedoara, Deva, Alba Iulia, Dumbrăveni.
After a highly successful series of concerts, the piano will remain in the Traube Hall in Medias, being entrusted to the local community for a period of three years.

A piano brought to life, a tremendous journey
This is what Horia Mihail stated one year ago: We have come to the end of an absolutely incredible journey. We were acclaimed with such enthusiasm and interest by the audience in all towns we visited; for me, this was an amazing experience and I cannot wait to do it again. It is hard to say good bye to the piano that became my friend during this journey. However, the joy I am feeling for having managed to bring it to life, make this sadness go away.
It is with great happiness that Horia Mihail has the chance to repeat the experience at a new scale.
The second tour announces a rich and exciting programme including recitals and orchestra concerts, starting in Medias on 21st May, in the hall where it finished last year.
You can follow its route on: www.pianulcalator.ro or on our public radio broadcasts.

Travelling Piano Itinerary
Mediaș - 21st May, Traube Hall
Dumbrăveni - 22nd May, Armenian Cathedral
Sighișoara - 23rd May, Cultural Centre
Mamaia - 17th June, Radio Vacanța
Buzău - 18th June, George Ciprian Theatre
Focșani - 19th June, Dramatic Theatre
Roman - 20th June, Cultural Centre
Caracal - 26th June, Dramatic Theatre
Reșița - 27th June, Cultural Centre
Sânnicolau Mare - 30th June, Cultural Centre

Recitals Itinerary
Brașov - 27th May, Reduta Cultural Centre Hall
Oradea - 2nd June, Philarmonic Hall
Baia Mare - 3rd June, Rotary Concert Hall of the Baia Mare Arts High School
Cluj-Napoca - 5th June, Hungarian Opera
Pitești - 8th June, Cultural Centre
București - 12th June, Radio Hall
Iași - 24th June, Ion Baciu Hall of the Moldova State Philarmonic

Orchestra Concerts Itinerary
Târgu Mureș - 31st May, Palace of Culture. Târgu Mureș Philarmonc Orchestra, conductor Alexandros Myrat
Brașov - 7th June, Military Circle. Brașov Philarmonic Orchestra, conductor Bogdan Chiroșcă
București - 15th June, Radio Hall. National Radio Orchestra, conductor JinWang
Bacău - 22nd June, Athenaeum. Bacău Philarmonic Orchestra, conductor Ovidiu Bălan
Timișoara - 29th June, Capitol Hall. Banatul Philarmonic Orchestra, conductor Gheorghe Costin
Chișinău - 11th July, Harmonium Hall. Moldavia Chamber Orchestra, conductor Valentin Doni

Translated by Gianina-Aniela Casleanu,
MTTLC graduate, Bucharest University