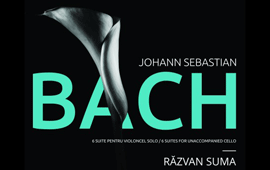 Răzvan Suma Has Released the Bach Album
Friday, 11 May 2012 , ora 10.01

Răzvan Suma's long-awaited album, dedicated entirely to Johann Sebastian Bach's Cello Suites was released on Wednesday, May 9
th
, 2012, during a concert conducted by Eckart Hübner in which the cellist was accompanied by the Romanian Radio Chamber Orchestra. The six Suites were presented during his national tour "Do you like Bach?" that took place between March 1
st
and March 21
st
in cities such as Pitești, Baia Mare, Bistrița and Bucharest. All of them have been recorded on a double CD under the record label SoNoRo Records and both the audio and the graphic components are exquisite. One significant detail you should learn is that all recordings were made using a cello created by the master craftsman Charles Adolph Maucotel in 1849. The instrument was a gift from French cellist Pierre Fournier.

This event - a premier for the Romanian stage - has brought Răzvan Suma straight from the stage of the Romanian Radio Hall up to its foyer, alongside Liliana Staicu editor-in-chief of the Radio Romania Music station and art director for the Radio Music Bands. "The release of a compact disc containing Johann Sebastian Bach's Cello Suites is an event in itself. For the Romanian Radio in general and, especially, for Radio Romania Music it is more than that, as they have been co-producers for the national tour 'Do you like Bach?' Răzvan Suma performed in March. He is, no doubt, the most prominent cellist of the new generation; apart from being a soloist for the Radio Music Bands, he has a very intense career, boiling up to extraordinary things, as you can well see. The project itself was a challenge and he has passed it tremendously well - both in terms of the concert and the album. His collaboration with the record label SoNoRo Records, owned by violin player Răzvan Popovici, was fruitful one: from what you can hear on this CD, to its graphic form, it is all truly remarkable, indeed fit for such an event."

Also present at the even was cellist Marin Cazacu - Răzvan Suma's mentor from the beginning of his career: "Being very young, only 35 years old, Răzvan Suma has proven his likes Bach; and not only does he like him, he loves him, really, as he has studied his work closely and it is close to his heart. The event itself is an inspiration to a lot of young people, a calling towards this music genre, that should be thought of as 'daily bread for musicians' - as suggested by Pablo Casals".

Of how hard it is to finish such a project, we found out from Răzvan Suma himself - the first Romanian musician to have recorded Bach's Suites for solo cello: "It was a tremendous effort. I didn't accomplish this alone, I did it with the help of the record label SoNoRo Records, who have given me the opportunity to be a part of their team and that means a lot to me. Only now do I realize what I have accomplished. "
Alexandra Cebuc
Translated by Mihaela Melneciuc
MTTLC, Bucharest University