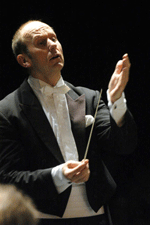 Gerd Schaller Conducted the George Enescu Philharmonic Orchestra
Friday, 18 May 2012 , ora 11.25

On 17
th
May, at the Romanian Athenaeum, Radio Romania Music has recorded a new concert of this year's season of the George Enescu Philharmonic. The concert will be made available to public radio stations at the
Radio
Assembly of the
European
Broadcasting
Union and, of course, it will be broadcast on Radio Romania Music. The conductor was none other than Gerd Schaller, familiar to us for conducting the Radio Music Bands. The first piece on the bill was
The Piano
Concerto No
.
2in B-flat major Op 83
by Johannes Brahms. Andrei Licareț was the pianistin this composition for piano and orchestra. We have listened to his pure interpretation; the energy and the vibration of each and every move have managed to arouse the audience's interest.
After the break, we had the pleasure of listening to the symphonic poem Don Quixoteop 35 by Richard Strauss. Gerd Schaller is, as a matter of fact, renowned for being a specialist in Richard Strauss' music. Violinist Marin Cazacu, who led the entire adventure of the famous knight depicted by Miguel Cervantes, played Don Quixote's role. The tremendous force with which the musicians have played this opus was fully appreciated by the audience, from the majestic brass tunes to the comical moments described by the violin or the viola.
Radu Mihalache
Translated by Mihaela Melneciuc
MTTLC, Bucharest University