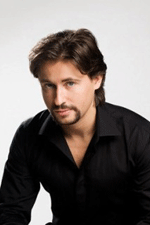 Tuesday Evening Season at the Romanian Athenaeum
Wednesday, 23 May 2012 , ora 13.11

The Tuesday evening season
brought in front of the Bucharest audience, on 23 May, 2012, a well-known name of the present lyrical stage. Tenor
Tiberius Simu
from Cluj proposed a programme of the most appreciated lieder from the French and German romantic repertoire.
Tiberius Simu is known to the genre audience all around the country, having important roles in performances of the great lyrical institutions in the country as far back as in his college days at the 'Gheorghe Dima' Music Academy, at the beginning of the 2000's. But his card is impressive due to his international activity in the study area, as well as in interpreting, the most notable moments being the ones spent on the opera stages from Milan, Leipzig, Vienna, Toulon and Montpellier. However it was surprising enough that the audience came in small numbers on Tuesday evening at the small Hall of the Athenaeum.

A profound musician
Even from the first cycle of lieder, the one from Jules Massenet's creation, I noticed the secure voice, perfectly adapted to the hall's sonority, but also the large palette of nuances well adapted to each moment. The 'Poet love' cycle by Robert Schumann followed, in which an excellent pronunciation of the German language was evident, but also the elegance and certainty with which tenor Tiberius Simu managed to make almost unnoticeable quite the few hesitations of pianist Silvia Sbârciu.
In the last part a consistent series of lieder composed by Gabriel Fauré was presented, among which the well-known 'Après un rêve' or 'Clair de lune', in which I noticed again the vast palette of nuances suited for the French creations.
The recital's finale strengthened the impression left during the whole evening by tenor Tiberius Simu - that of a very experimented artist, with a balanced style and a remarkable voice, who through all of the details of his performance reveals a profound musician.
Dan Ghineraru
Translated by Dobrin Irina
MTTLC, Bucharest University