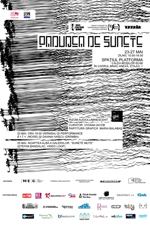 'A Forest of Sound' in Bucharest
Friday, 25 May 2012 , ora 9.18

An exhibition of sound is open to visitors until Saturday, 26
th
May, 2012, in the Platform Area of the Annex of the National Museum of Contemporary Art. Wednesday, 23
rd
May, there was the opening festivity of this event organized for the first time in Romania by
Viviana Iacob
. Entitled
'A Forest of Sound'
, it presents the sounds that can be heard, felt and seen, transcribed by hand by our colleague Maria Balabaș who works at Radio Romania Culture as a series of graphic scores with symbols rather than definite objects. The opening performance was a fascinating one - apparently two divergent interpreters, one a representative of music and the other a long way away from it.
The Jew's harp of adolescent Daiana Ivascu produced sounds that were different from the folk music she usually plays and was accompanied in a performance by d s l x, stage name of Gheorghe, noiser and sound artist who collected industrial noises from the acoustics of the city and projected them by means of a computer. Encountered daily they are irksome, so well-structured and transmitted through an organized framework, they become art. I watched this performance with the attention I listen to classical concerts.
Viviana Iacob, the initiator of 'A Forest of Sound', selected from the archives of the Museum of Ethnography in Geneva sounds recorded decades ago by Constantin Brăiloiu. She has "displayed" them in a room where darkness is interwoven with an "audioluminescent rhizome", a radiant installation that mimics the branches of an underground stem and the silence - parts of mourning, bagpipes and lilac leaves. Walking around surrounded by musical vibrations, one would walk in and out of the sound in a literally staggering journey to old times, living a sound experience which is both palpable and bodiless.
Maria Monica Bojin
Translated by Elena Daniela Radu
MTTLC, Bucharest University