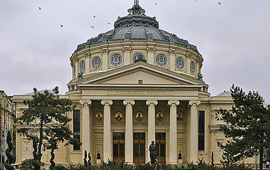 New Discographic Achievement of the Bucharest Philharmonic Orchestra
Friday, 25 May 2012 , ora 9.21

Wednesday, 23rd May, 2012, at the Romanian Athenaeum there was held a press conference called "George Enescu Philharmonic - a new vision", a conference which was primarily aimed at launching the CD-DVD double album " Iuri Botnari and the George Enescu Philharmonic Orchestra" that will take place Friday, 25th May. The album made ​​in February highlights important pages signed by composers Modest Moussorgsky and Sergei Prokofiev. This project was presented by General Manager of the George Enescu Philharmonic, Andrei Dumitriu, conductor Iuri Botnari and flutist Ion Bogdan Stefanescu, the representative of the orchestra. They also told us about a new media opening of the Philharmonic and a possible tour of the orchestra led by Iuri Botnari in Chisinau.
About the album "Iuri Botnari and the George Enescu Philharmonic Orchestra", General Manager Andrei Dumitriu gave us the final interview:
"The fact that a Philharmonic Orchestra DVD has been released is a positive event. After more than ten years - it has been almost seventeen years since the last TV broadcast - which is absolutely unacceptable, this DVD exists today and I think it is a good start. Working with maestro Botnari favours us because he has partially secured financial resources which allowed us to pay the orchestra for this event. My desire is to offer this chance to other conductors, as well. I am negotiating with TVR Cultural Channel and I hope I will find enough financial resources that will help me accomplish this project. "
Radu Mihalache
Translated by Elena Daniela Radu
MTTLC, Bucharest University