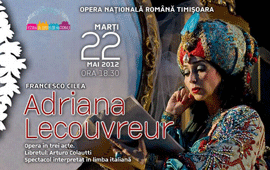 A Celebration of National Opera Houses - at Cluj-Napoca
Friday, 25 May 2012 , ora 9.15

It was told that this is the first edition of this festival, I would say that it is the first edition of the
national
opera houses, because this type of production swapping has been happening between the theatres in Romania ever since the '90s.
After opening with Aida, conducted by maestro Petre Zbarcea and with Sorina Munteanu in the lead role, the already famous recorded film of the Tosca performance from the Covent Garden, with Angela Gheorghiu in lead role, was screened. On Tuesday, 22nd May, 2012, I assisted at an exceptional event, because the Opera House in Timisoara performed here Adriana Lecouvreur, a superb production, highly appreciated also by the audience here, impeccably performed, even by international standards. Playing the lead role, Carmen Gurban outdid herself performing together with an excellent mezzo-soprano, Mirouslava Yordanova from Bulgary and with Calin Bratescu, who was in great shape, and also together with the entire group of the opera under de baton of David Crescenzi. I had seen the previous performance, this time they outdid themselves - the staging was superb, even though classic it was absolutely wonderful. Everybody appreciated the show as an image, the direction, the tension, the atmosphere and, obviously, the performance because it was really touching - with standing ovations, with cheers, and also a lot of musicians were among the audience. Without a doubt, Adriana Lecouvreur from Tuesday night was the best performance so far.
I am curious to know at what level will the other opera houses invited will perform and of course, the Romanian Opera, the host theatre of this festival, which deserves all of our congratulations for a difficult, ambitious enterprise and which is, fortunately, happening.
Anca Florea
Translated by Florina Sămulescu
MTTLC, Bucharest University