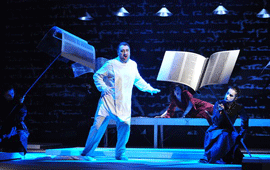 Ending of the National Operas Festival in Cluj
Tuesday, 29 May 2012 , ora 9.20

Monday, 28
th
May, 2012, the National Operas Festival - an act of courage, as it can be called, organized by the general director of the Romanian Opera in Cluj, Rares Trifan - presented the performance of the highly debated
Nabucco '12
, which is actually called
Nebuchadnezzar
, a performance directed by Alexander Hausvater; a surprising performance with a very crowded scenography, which was well acted and fairly well sung, with Martin Fülöp in the title role and with Madeleine Pascu as Abigail in Bucharest. A pleasant surprise was Iulia Merca as Fenena. There were many projections of images that suggested the holocaust with something that reminded us of a gas chamber and other rather shocking details. From my point of view, the projections overloaded the performance and overlapped what actually happened on stage; but I think that it is a performance worth seeing.
With Adrian Morar at the music rack, obviously feeling comfortable, in Cluj, his home town and conducting the orchestra of the host opera, it all sounded really well.
The festival ended somehow forcefully, with a virtually grand performance, to say the least, and absolutely well-deserved rounds of applause for the effort made during these challenging days.
It should also be added that the Monday evening performance of Nabucco was dedicated to those who produced the first production at the Romanian Opera in 1986.
Anca Florea
Translated by Elena Daniela Radu
MTTLC, Bucharest University