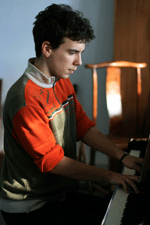 The Tuesday Evening Season at the Romanian Athenaeum
Wednesday, 30 May 2012 , ora 9.22

The last recital included in the current concert season of the Tuesday Evening Season, offered to the public by the "George Enescu" Bucharest Philharmonic in partnership with Radio Romania Music, presented young pianist Iulian Ochescu on the stage of the Small Hall of the Romanian Athenaeum.
Born in a family of musicians, Iulian Ochescu is a student in the XIIth form at the "George Enescu" National College of Music in Bucharest in the class of teacher Gabriela Enășescu.
Although he was one of the youngest artists who participated in this season's concerts, he had an impressive calling card: awards at major competitions such as "Pro Piano", "Ina Macarius" and "Mozart" in Târgoviște or "Panmusica Austria" in Vienna. He attended master classes held by personalities such as Martin Hughes, Jusus Frantz, Diana Ketler și Dan Grigore.
Tuesday, 29th May, 2012, a very wide audience came to listen to Iulian Ochescu. Perhaps surprised by the concise playbill which was different from the programme that was to be performed, those present did not respond to the Prelude & Fugue in E flat Major, BWV 876, a work that otherwise Ochescu Julian played well, in a style appropriate to the score. Sonata Quasi Una Fantasia in E flat Major by Beethoven was the next piece, which highlighted both the confidence with which the young pianist approached the virtuoso passages and some lack of an overall vision of the creation. Then, the spectacular scenes of Carnival of Vienna op. 26 by Robert Schumann offered many outstanding moments, played with confidence and maturity. Iulian Ochescu continued his recital with the Melody from the Impromptu Pieces, op. 18 by George Enescu, in both a deep and expressive style and then he confirmed that he possessed the language related to the modern one by playing Alexander Scriabin's Study, op.65 no.3 very well. That was the work that concluded the young pianist's recital who did not yield to the hearty rounds of applause.
Dan Ghineraru
Translated by Elena Daniela Radu
MTTLC, Bucharest University