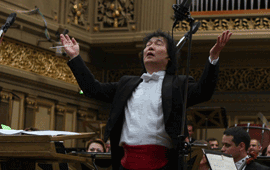 Armenia, Romania, Hungary - at the Evening Music at the Romanian Athenaeum
Friday, 1 June 2012 , ora 9.35

Soloist player Evghenia Epstein will give a violin concerto by Aram Haciaturian on 31
st
May. She has an amazing vocal timbre with profound nuances, a great timbre of a singer even in the moments of acute. This is how she sweetens the music's sonority, completely avoiding the hysteria that the violins and the panicard agitation of the performers can easily slip into.
Evghenia Epstein has maintained its poignant temperamental and ethnic character but she also personalized it, as the whole orchestra did, with a lot of humanity, winding it in sound like a muff.

From violins through vocal-simphony toward the strong bond between the two parties
In the second part we listened to the laic cantata composed by Bela Bartok that featured the lyrics of a Romanian carol and a challenging partiture for the tenor, to which Ionut Popescu stepped up, as a stage partner of maestro Pompei Harasteanu, who justified his fame from the first moments of his intervention. The choir of the 'George Enescu' Philarmonic, a very solicited and precise one, was glad to take part in this laic cantata where Bartok seemed to have incorporated an ensemble of voices into a universal sonority, assembling the orchestra and the choire into a single complete instrument.
Another piece by Bela Bartok concluded the evening at the Athenaeum, a pantomime acommpanied by the ballet suite The Magical Mandarin. If the Hungarian author exploits as much as possible the rhythmic element and the percussion of the instruments, he trully turns the rhythm into tunes and and the percussion into music. Without implying that the vocalists were a superfluous addition-nothing can be further from the truth, actually-I felt that in the intimacy of the orchestra conducted by the maestro, the two-the orchestra and the maestro-were more than enough, as they used to tell us at school, for the music to be derived pleasure from. Come on, let's do it, until now we have been only some kind of filler, a glass window for the vocalists, now it is the time for us to show how well we can sing, alone, the musicians seemed to tell me.
At the end of the concert the crowd gave a standing ovation to the instrumentists and Jin Wang, who conducted "effervescently", I would say - if the term didn't remind me so much of champagne and relaxation - so I'll settle for two better more accurate terms, "concentratedly" and "explosively".
Maria Monica Bojin
Translated by Vlad Nichita
MTTLC, Bucharest University