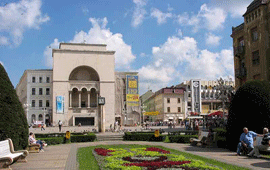 'Musical Timisoara' Festival Concluded
Friday, 1 June 2012 , ora 9.39

On Thursday, 31
st
May, a new edition of the traditional festival was concluded at the opera in Timisoara with fireworks. The festival ended in force because at the opera and ballet gala there were many exceptional Romanian and foreign theatre (of course) artists. The conductorship of the event pendulated between the maestros Victor Dumanescu and David Crescenzi, to everyone's amusement.
The proposed opuses were very diverse and extremely well chosen, so everything was tensed and glamorous ; there were given performances of Tosca, Attila, The Barber of Seville, Gioconda, The Potion of Love, Harlequins, etc.
I discovered that Bogdan Zaharia, an exceptional tenor, made hid debute as a baritone in the third aria of the third act of Tosca. I applauded the really impressive Dragana Radacovici, an amazing Serbian soprano, and Sabina Puertolas, whom I had listened to before and who has made exceptional progress ; she is already performing together with Jose Carreras and other worldwide celebrities. In addition to the afore-mentioned artists, Alexandru Moisiuc made his appearance after a long period of "performing" at home, and impressed the audience in Gioconda and Don Carlo. Another excellent performer was mezzosoprano Gabriela Varvari in Rosina, an aria that highlighted the evening. Bardon reedited the success that he had in Cluj a few days ago, when he received a standing ovation in The Potion of Love which we commented on, as well. Lacramioara Cristescu performed together with the Korean Kim In Fui - his voice was having a very special baritonal - a dramatic duo in Aida and the list of examples can go on, all of these segments alternating with choreographic moments extremely well performed from Roméo et Juliette, Le Corsaire or Swan Lake.
I experienced an evening like never before at any of our festivals. It was an envergure concert, a veritable play of fireworks, that I will remember for a long time. The festival most likely ended with the overfull hallas , of course, the organizers wished it would.
Anca Florea
Translated by Vlad Nichita
MTTLC, Bucharest University