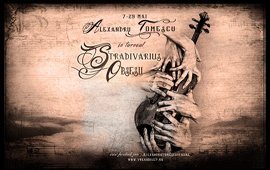 About Obsessions with Alexandru Tomescu, Ana Pepine and Paul Cimpoieru
Wednesday, 30 May 2012 , ora 9.51

Chiaroscuro, shadows and lights and the musical score of Eugène Ysaÿe's
Six Sonatas
interwove in a performance that kept on the edge of the seat several hundred music lovers who filled to the brim Bucharest Opera House. Yes, you have guessed correctly, I am reffering to the fifth edition of the "Stradivarius - Obsessions" National Tour that arrived in Bucharest last night.
After seeing the preview for the journalists on 3rd May, my curiosity was aroused. It certainly was something completely new. It was really worth waiting for and it only added to the suspense. Last night we all discovered the sequel of the fascinating story of the Obsessions and we entered the world of deep struggles portrayed by actors Ana Pepine and Paul Cimpoieru supported by Ysaÿe's moving music played on the Stradivarius Elder-Voicu violin by Alexandru Tomescu.
Was it really so! Will Ana Pepine and Paul Cimpoieru face the obsessions that they described on stage?
Ana Pepine:
"With different features, but still the same. For example, I think that any artist lives the Sisyphus moment. The fight is similar to climbing a huge mountain and there is a great weight pressing us which is either a dream of glory or the dream of vanity that you are nothing, that you cannot do anything, or conversely, that you will conquer the world; and creation is something that is equally very easy, like a cloud which sometimes makes you fly and other times it is very heavy and pushes you into the ground. "
I witnessed an extended show, despite the minimalist stage. We enjoyed a combination of many forms of artistic expression: music, non-verbal theater and video projections, a concept defined by Ioana Drăgulinescu. About the chemistry among the three artists, violinist Alexandru Tomescu will tell us a few details:
Alexandru Tomescu:
"The guiding thread was music, depending on the mood that each sonata created; Paul and Ana's moments were designed and the spectators realized that and experienced themselves the intensity of the show. It was a novelty indeed that starting last year we inaugurated a series of previews during the Stradivarius tour, which was actually a series of artistic experiments and I can only promise to music lovers of such experiments that we will go even further in the upcoming
tours. "
The conclusion: it was an absolute novelty, long applauded on the stage of the Bucharest National Opera, an experience that the three cannot wait to repeat and Paul Cimpoieru's statement stands proof of it.
Paul Cimpoieru:
"I have not reachedKilometer 0 yet. We left the darkness below and now the last performance of the national tour, I think, is at point 0, so the climbing has just started and this is only the beginning of something that has just been born."
Petra Gherasim
Translated by Elena Daniela Radu
MTTLC, Bucharest University