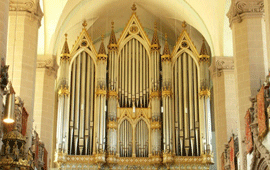 Summer Organ Concerts Season from the Black Church in Brasov
Wednesday, 6 June 2012 , ora 13.07

An exceptional cultural offer for the visitors of the Black Church in Brasov: this year' summer season has thirty six instrumental and vocal concerts, with guests from Romania and also United States of America, Denmark, Austria, Germany or Italy. The season opened on Tuesday, 5
th
June, 2012, with a concert at the three instruments inside the Black Church, and the money earned from ticket sales will be used to restore another two instruments inside the church, which at the moment are impossible to play on.
Further details from organ player Stephan Schlandt:
'The concert begins under the sign of the three instruments, because, during the last few years, with the organ concerts season in Brasov we managed to finance the restoration of some of our instruments. Pieces from the Baroque period will be performed, and a work from 20th century of the French composer Louis Vian. Thanks to those three instruments we currently have in the Black Church the repertoire can be extremely diversified. We have instruments that are equally timed up, like a piano, and we have instruments that are attuned after a certain temperature, just as it happened in the 17th and 18th centuries, a highly popular way during those times. Those pieces will sound even better being played on an antique instrument. At the great Buchholz organ one can perform a repertoire beginning with the 14th century up until contemporary music, and at the two smaller organ one can perform pieces especially from the 16th and 18th century.'

Opinions
It was a superb concert. I had never been here before and I enjoyed it immensely.
Will you come back again?
Yes, definitely.
It was very beautiful. I was impressed. It's the first time I see this type of concert.

Did you enjoy the concert?
Yes. It's the first time I see something like this.

Will you come back again?
I had never come during the twelve years I lived here. I am truly sorry. I will come back over and over again.

Have you ever seen the Black Church concerts?
When I was a child.
Will you come back again?
Yes, definitely.

Did you like the concert? What did you like about it? The big organ? Have you seen it before?
Yes. I didn't see this one but I saw others.

Organ Players from Brasov and the Entire Europe
The concert bill was scheduled according to the estimated tourist number until the month of September, just as organ player Stephan Schlandt told us:
'We will perform thirty six concerts this year, out of which twenty four will be played by organ players from Brasov and the other twelve by organ players all over Europe. In June and September, that is, at the opposite poles, there will be concerts only on Tuesday, at 6 p.m. and in the most tourist filled months, which for Brasov are July and August, there will be three concerts - Tuesday, Thursday and Saturday, also from 6 p.m. This year the ticket price is 8 lei, but there is also the possibility of acquiring a subscription, in which the price per concert is still 6 lei, the same as last year.

How many spectators are you expecting?
If we are to take into consideration the numbers from previous years, we hope to reach an average of 180 spectators, a total of over 6000 spectators throughout the summer. Comparatively with other concert series in Europe we are very successful.
Nicoleta Ghișă Radio Antenna Brașov
Translated by Florina Sămulescu
MTTLC, Bucharest University