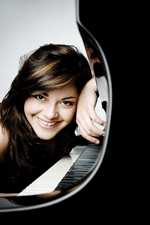 How I Forgot to Breathe During Chopin's Concert
Monday, 11 June 2012 , ora 9.49

This is how I decided to name my next review because this is the only way I can describe the experience I lived on Thursday, 7
th
June, 2012, at the Romanian Athenaeum, when the 'George Enescu' Philharmonic, conducted by maestro Horia Andreescu accompanied pianist Mihaela Ursuleasa in
Concerto for Piano and Orchestra No. 2 in F minor
by Frédéric Chopin.
The pianist entered the stage, sat down at the piano and waited for the orchestra to execute the introduction of the Concert. From the first note that sounded off the keyboard I knew that Mihaela's performance was going to be something spectacular. We all know she is a talented artist, but every new concert is a fresh opportunity to leave us surprised. First of all, I would like to notice the purity of her performance on Thursday night. Every note was heard distinctively, it all went naturally, full of consistency. Even in the piano moments, the soloist score was heard distinctly, like a mountain stream. Then, I would like to talk about the easiness with which Mihaela performs. I actually had the impression that Chopin's concert was a game for her, giving it so much energy, so much colour. We also have to acknowledge her versatility. She appealed to unexpected, spectacular effects, which brought out completely new things, preparing for us at every turn of the music phrase a surprise. It was a sensational performance, an exuberant sound explosion, full of live energy, full of life and completely original.
Next, there was an encore - Elegy by Sergei Rachmaninoff - where I had the opportunity to see an entirely different Mihaela than the one who performed earlier Chopin's Concert. If only a few moments ago everything was easy going and playful, the Elegy submerged us into an unsettling, impetuous and even dramatic torrent. Mihaela Ursuleasa has explored the instruments entire capabilities, going up to fortissimo nuances, fully unlocking the sleeping power of this work. There were applauses after the first part and I was also tempted to do it, that's how excited I was about what I had just heard.
The other two opera that we heard were The Light of the Roads by Ulpiu Vlad and Symphony No. 3 in E flat, Rhenish by Robert Schumann. The first piece was the ideal choice to open this concert: full of mystery, delicate, balancing between light and darkness, the piece definitely led to the creation on a mood. Schumann's Symphony No.3 unfolded free and grandiose under the baton of maestro Horia Andreescu. Vivacious was she and it only sounded like that because of the conductor's commitment who always succeeded in infusing the entire orchestra and the audience with an inexhaustible energy.
It was truly an extraordinary evening! All I can hope for now is to have the opportunity to see Mihaela Ursuleasa perform on our stages as soon as possible.
Petra Gherasim
Translated by Florina Sãmulescu
MTTLC, Bucharest University