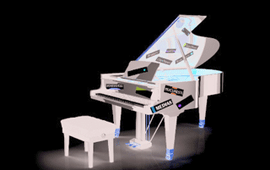 Travelling Piano 2012 - Press Conference
Tuesday, 12 June 2012 , ora 9.51

Lately, I'm sure we have all come to associate the first few notes of the
Caprice for Piano
waltz from the cycle
Soirées de Vienne
by Franz Liszt with the 'Travelling Piano' Tour which pianist Horia Mihail began on 21
st
May 2012, in Medias, the town where last year's edition ended and where the piano made available by Radio Romania was left to the delight of the town folk.
On Monday, 11th June, at 12 p.m. a group of journalists, including myself, met with Horia Mihail in the garden of a very stylish restaurant in the centre of Bucharest for a press conference scheduled for the middle of this year's tour. The conference was opened by Oltea Serban-Parau, Radio Romania Cultural chief editor, radio station which organized the event in partnership with the 'Accendo' Cultural Association.
A few technical details of the tour: it has seventeen recitals and five concerts, which means two types of repertoires - a chamber one with works by Mozart, Bach, Bartók, Liszt and Rachmaninoff and a concert one, during which Horia Mihail performs Rhapsody on a Theme of Paganini by Sergei Rachmaninoff. Also, on the travelling plan of the pianist there is also the capital city of the Republic of Moldova.
The pianist is already on his second tour this year. After traveling across the country with flute player Ion Bogdan Stefanescu with the 'Golden Flute' tour, Horia Mihail began a new journey, together with the instrument made available by Radio Romania. The first part of the event was a tough one because, I quote: 'that's how I wanted it to be'. Asked what are the differences between the two pianos he played - last year's Steinway and this year's Bluthner which weighs 100 kg - Horia Mihail answered that 'although it was hard to answer objectively to such a question, from a mechanical point of view he felt more comfortable with last year's piano he loved the sonority of this year's instrument.'
We must remember that the 'Travelling Piano' tour has at its roots a very original and generous idea: endowing with such an instrument a town that does not have a permanent season and where classical music recitals are rare, if at all. This year, the lucky one is Sannicolau Mare, Bela Bartók's home town.
Music lovers from Bucharest can enjoy the presence of pianist Horia Mihail at the Radio Concert Hall on Tuesday, 12th June, for a recital and on Friday, 15th June, in a concert where he will perform together with the National Radio Orchestra conducted by Jin Wang.
Petra Gherasim
Translated by Florina Sãmulescu
MTTLC, Bucharest University