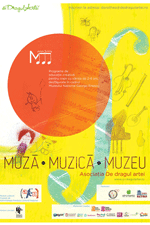 Muse. Music. Museum - A Project for Children
Wednesday, 13 June 2012 , ora 10.28

The first part of the "Muse. Music. Museum" project which ended on Tuesday, 12
th
June, 2012, began with the sounds of Johannes Brahms' lullaby. Hosted by the "George Enescu" National Museum and aimed at preschoolers, their encounter with music meant a special tour of the institution where the little music lovers had the opportunity to try the miniature violin, bow, and even conductor's wand, so as to know all the aspects of George Enescu's personality. Violonist Raluca Stratulat was the host of the event.
Alexandra Cucu, one of the project coordinators revealed more about how this initiative started:
"Raluca Neamu from the "De dragul artei" Association came up with this initiative to write a project to include more domains and to unite, in the museum, aspects which belonged to both music, as well as creative movement and to introduce them to children in a colourful and attractive way. So far there have been ten programmes with kindergartens in Bucharest and next, over the summer, there will be a programme for families and children between two and six.
However, this musical lesson was best seen through the children's eyes:
What is a musician?
Someone who plays.
Who was George Enescu?
A musician.
What did he play?
The violin and the piano.
Did you like it?
Yes.
How much?
Very much.
Alexandra Cebuc
Translated by Ioana Ristulescu
MTTLC, Bucharest University