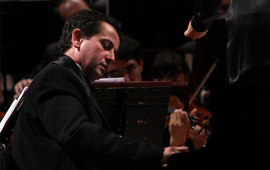 Closing of the Radio Musical Season 2011-2012
Monday, 18 June 2012 , ora 10.36

On Friday, 15
th
June 2012, the audience had the chance to say goodbye to the members of the National Radio Orchestra until the next season. The 2011-2012 season came to an end with an extraordinary concert that had Jin Wang as conductor, and as a soloist, pianist Horia Mihail. On the playbill, the Overture-Fantasy
'Romeo and Juliet'
by Pyotr Ilyich Tchaikovsky,
'Variations on a Theme of Paganini'
by Sergei Rachmaninoff and, in the end, the suite
'The Firebird (L'oiseau de feu)'
by Igor Stravinsky.
I would like to mention from the start that the repertoire was excellently chosen thus giving the orchestra the opportunity to evolve, performing highly emotionally charged scores, very colourful and expressive.

Mission Accomplished without a Flaw
The presence of pianist Horia Mihail was included in the 'Travelling Piano' Tour, on its second edition this year, tour that has started on 21st May. Horia Mihail was in excellent shape on Friday evening, performing flawlessly the 'Variations on a Theme of Paganini'. The pianist thrilled the entire hall, which applauded him for minutes on end, not giving him the possibility to leave the stage without an encore. And so, he performed 'Serenade' by Schubert-Liszt, a piece with a melodic style filled with quiet melancholy which fathoms deep within the soul of the listener. Expressing a ravishing poetry, the piece was listened to without hearing a sneeze or the inopportune coughs of some of the members of the audience. In conclusion, well deserved ovations for pianist Horia Mihail who will continue on his tour.
The second part was a brilliant one, the orchestra vibrated at its maximum under the baton of Jin Wang. It's true that Stravinsky's music is one that induces exuberance, and the orchestra's members fulfilled their mission precisely. The audience was - once again - in rapture. The ovations were so intense and so long that the orchestra performed three encores. Only then that the enthusiasm subsided and the audience started to leave the hall.

A Steadfast Love Affair
As a conclusion, I would like to leave you with the words of Jin Wang, who talked about his relationship with the Radio Orchestras:
'There is a love affair between me and the National Radio Orchestra. We've been in love for many, many years. We are not married yet, but we love each other very much. I've been here for twenty years. I've received a permanent position as an invited conductor, at the proposal on maestro Horia Andreescu. And since then I have conducted many concerts that were important for me, I have seen the change with my own eyes. The society is different; the obscure streets have now become bright and colourful, just as in the West. And also the orchestra has changed for the better. Three times this week, after twenty years, I've let them leave forty five minutes earlier, simply because I was fully satisfied with their performance.'
Petra Gherasim
Translated by Florina Sămulescu
MTTLC, Bucharest University