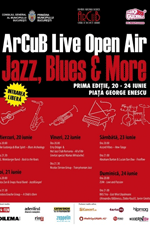 Jazz, Blues & More Festival in George Enescu Square in Bucharest
Friday, 22 June 2012 , ora 12.13

In its sixteen years of existence, Arcub has organized several blues and jazz or world music concerts, but it is the first time they decide to organize a festival, a live one nonetheless, an open air festival which is carried out under the
'summer lucky hot'
slogan. During these truly hot days, from Wednesday to Sunday, some of the great names in jazz and blues from Romania or which have a connection with Romania are present.
The honour of opening this festival belonged to Mike Godoroja and Blue Spirit who, together with his colleagues presented a true archaeology of blues. As you well know, Mike Godoroja has a sort of show that resembles a play, in which music is played by an instrument and every spectator becomes a character. The same thing happened on 20th June, at 8 p.m. And at 9:30 p.m. AG Weinberger, this exceptional guitarist, also a radio and TV show producer and host, came as a blues music missionary and performed a high class show.
A Hungarian band, the Istvan Gyarfas Trio performed on Thursday, 21st June, and afterwards Luiza Zan and Snaps Vocal Band followed with a gospel project. On Friday, 22nd June, Emy Dragoi and his Romanian Hot Jazz Club (a reference to the famous band that was in vogue in the 1930s Paris) will perform. Emy Dragoi has in store for us an interesting project, and afterwards Nicolas Simion Grup will present us an intriguing fusion between jazz and folk music. I must say that this is a successful endeavour right here in the middle of Bucharest, a free show, which gives credit to the organizers, but also to the public who forgot about the heat and was present to try some of the best local dishes and not only blues, jazz or even a lot more... more.
Liviu Zamora
Translated by Florina Sămulescu
MTTLC, Bucharest University