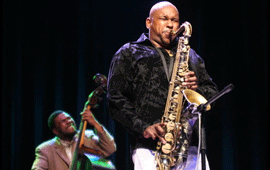 ARCUB Festival - Jazz, Blues & More in Bucharest
Wednesday, 27 June 2012 , ora 10.21

A surprise of the ARCUB Festival which recently ended here in Bucharest was the meeting with Lucian Ban, our compatriot which makes us proud as a people by playing in the biggest clubs in New York with his friend and colleague, Abraham Burton. Abraham Burton came to Romania on many occasions and I enjoyed talking to him. He was born in New York, but his parents are from the Belize Islands, he received a solid musical education, starting with the High School of Music and Art from New York and then, under the apprentice of the great Jackie McLean, he studied at Hartt School of Music where he graduated
Cum Laudae
. The one who influenced his jazz career was the legendary drummer Arthur Taylor, with whom he performed in the biggest clubs in New York, Europe and whole America. He consolidated his reputation as a true musician by recording with Milt Jackson, James Carter, Jimmy Smith and many more. In 1994 he created the Abraham Burton Quartet, with which he received the best reviews from critics, audience and trade magazines and he continues to do so.
But let's hear Abraham Burton explaining to us how is jazz from a New York perspective:
Artists and music are the reflection of our time.
Of course. Do you think that jazz is also a reflection of our time?
Everything is. Everything is reflected in our time and music is no different. You will discover that in music there are so many people connected with each other, from different parts of the world, with their thoughts and their perspectives. It's great.
Do you think that the future will also have jazz?
I think things are changing. Maybe blues will no longer be the way we know it, maybe jazz will no longer be the way we are used to it, how it was when we grew up with it, there will be different things, but it is expressive. And if people express themselves through it, I believe the future is going to be good. We can at least hope it will be. The young hold the answer. Make young people listen to music, to the history of music! This already happens in Europe, but in the United States - even though it is an American music form, of the blacks from America, it was created there - unfortunately they do not promote it to young people as they should. But thank God this happens in Europe, also in Asia and, for sure, in other places in the world. It is a positive thing.
Liviu Zamora
Translated by Florina Sămulescu
MTTLC, Bucharest University