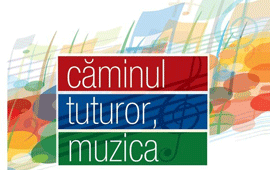 'Music, Everybody's Home'
Monday, 18 June 2012 , ora 10.29

…This is how it is titled the extraordinary concert of the Hungarian National Philharmonic Orchestra in Transylvania. Thalia Hall in Sibiu was transformed into everybody's home on Sunday, 17
th
June, for almost two hours. We were all invited by a spectator to listen to a special concert:
'Welcome and I hope you will enjoy what you are about to hear, because at Sibiu it's happening an extraordinary event, Budapest State Philharmonic; truly one can see the difference between their music and the music we listen to here every Thursday or Sunday we come, when there is a performance. This is special and I believe that those who came do not regret it and they want to return to shows like this.'
'Extraordinary' was what I said aloud after the first few seconds. People with smiles on their faces were lovingly listening to Enescu's 'Romanian Rhapsody No. 1 performed by the Hungarian Philharmonic. When choosing the repertoire they took into consideration the representative composers from that particular area. Just as conductor Zoltan Kocsis told us:
'In every country we go, we perform works by the composers of that specific country. In Slovakia we performed pieces by a native composer, the same in Serbia and Ukraine. It was only natural if we came to Romania to perform works by a Romanian composer. Enescu is not an excursion for us, because last year we were invited to George Enescu Festival were we enjoyed performing the 'Symphony No. 2' by Enescu.'
The Chairman of the Hungarian Association in Sibiu, Levente Serfozo, told me how important it is that Sibiu was included in this tour:
'Three very beautiful pieces, performed by this orchestra which is composed of over seventy members who came by three buses, with a truck trailer, with all the gearing of the Budapest State Philharmonic; it is an honour of us that they also stop in Sibiu. We also incorporate Sibiu, from a Hungarian culture point of view, in the circuit of these illustrious representatives of the Hungarian culture, like the Hungarian State Philharmonic.'
A lady behind me came to the performance with her two children, who were impressed with the musicians:
'We like this type of shows, we enjoy coming to the Sibiu Philharmonic, and this was a special occasion in listening works by famous composers, like George Enescu and by Hungarian ones.
I enjoyed best the 'Romanian Rhapsody'. I liked the violin best.
We've been here before. It is beautiful.'
In Sibiu, it was only the beginning of the tour. On Monday, 18th June, the Hungarian Philharmonic Orchestra will go to Targu Mures, then they will delight the audience in Miercurea Ciuc, Sfantul Gheorghe, Cluj Napoca and the final performance will be on 23rd June, in Oradea. The ticket price is 30 lei.
Oana CiucăSibiu Antenna
Translated by Florina Sămulescu
MTTLC, Bucharest University