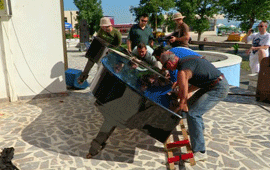 The Travelling Piano in Caracal
Wednesday, 27 June 2012 , ora 10.32

'An audience which was avid of everything beautiful, of culture and which was very warm.'
In Caracal, the seventeenth city visited by this tour, pianist Horia Mihail found, with the risk of using a cliché, the biggest cultural effervescence so far. Literally! The hall of the Dramatic Theatre has approximately 200 seats, but before the recital I counted over 200 spectators in the foyers and in the hallways; half of which - pupils. And even though the air conditioning did not work and at one point both the pianist and the spectators were sweating profusely when I asked them how they felt the metaphors started to flow.
*
I've never seen anything like it. It's the first time I see something like this. I don't know! At one point I had goose bumps from being so touched by what I heard. It was something extraordinary.
Would you like him to come back?
Yes. It seemed everything stood still. Time stood still and we entered a world where time does not exist, especially since we do not have many opportunities to see something like this in Caracal.
*
'Despite the fact that I have travelled over 600 km, in the last twenty four hours I've enjoyed myself, I felt fresh and, in spite of the heat, I think I have delivered a good recital.'
The girls - around ten in number - who stood in the first row in the balcony felt the same. And they are not ordinary girls.
*
What handball team are you members of?
CSS Caracal;we have just finished the championship and last year we won a silver medal. We'll start the championship once again in September.
And now you've come to relax?
Yes.
Did you see passion in what the pianist was doing?
Yes. One can see a lot of work and passion.
Does he inspire you? Are you just as passionate when you play?
Yes.
What it would be like if during training you were to listen to Mozart or Bach?
I don't know. We would have more inspiration while playing. We would be calmer and we would focus more on the game and we would try to win.
*
It's a fact! Horia Mihail has won the admiration of every spectator that was Tuesday, 26th June, at the concert. And if all of this wasn't enough, the pianist also received a surprise present.
'A personal surprise, but which is connected to the Travelling Piano, of course. It's connected with a piano, it has something to do with an angel, it's about Mr. Doldurea who gave us a piano as a present. It was absolutely sensational, something that makes me believe that Romania is on the right track with people like this.'
After such a welcome and after such a surprise, Horia Mihail leaves pleased today by plane to Timisoara, to his next recital. The travelling piano is already on route, in just two days it will arrive in Sannicolau Mare, the final destination of this tour.
Adina DragomirRadio Romania Cultural
Translated by Florina Sămulescu
MTTLC, Bucharest University