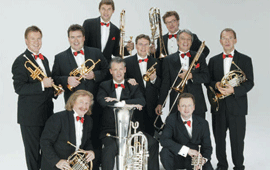 Sergiu Celibidache Festival - 2nd July - German Brassat the Romanian Athenaeum
Tuesday, 3 July 2012 , ora 11.05

One of the world's leading brass ensembles comes to Romania for the first time, to perform in the first edition of the Sergiu Celibidache Festival, taking place in Bucharest between 3rd May - 7th July.

The German Brass ensemble was founded in 1974 and it has been synonymous with highest level brass music ever since.
Their repertoire covers a wide range of styles, from Dixieland and Bossa Nova to classical parts, as they showed us on the evening of 2nd July 2012, in the concert that took place in the Great Hall of the Romanian Athenaeum.

The ten members of the ensemble charmed the audience from the first minutes of the concert.
The trumpeter Werner Heckmann, who successfully took on the role of master of ceremonies, initiated the public into what was going to follow, in a very fresh and highly appraised Romanian.
The easiness and humour that characterized the musicians' stage presence, gave a different zest to ​​John Baston's and Johann Sebastian Bach's baroque, and also to the German and Italian opera pieces.
The second part of the concert was a fine blend of virtuosity and high class musicality, as they showed us they are a real band that can play swing or dixieland with such a contagious joy.
The audience's frantic applauses were rewarded with a brilliant performance of Grigoras Dinicu's Hora Staccato, and the promise to return to Romania, which will hopefully happen soon.
Hajnalka Kerekes
Translated by Gianina Casleanu
MTTLC, Bucharest University