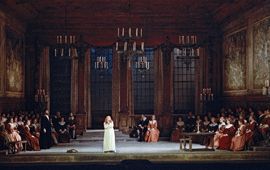 Lucia di Lammermoor at Vienna State Opera - Chronicle
Monday, 2 July 2012 , ora 11.08

Lucia di Lammermoor at Vienna State Opera - Chronicle
I happened to have been at the Opera House in Vienna even on the days when scheduled
shows were broadcast live at Radio Romania Musical, by the European Broadcasting Union - Don Carlos by Verdi, which opera lovers could have listened to even on the opening night (June 16th, 2012), and Lucia di Lammermoor by Donizetti (June 30th, 2012).

A young Lucia
It was a series of performances with great emotion, because Donizetti`s sopranos had successively fallen ill, and for this specific evening that I refer to, the title role was sung by young Brenda Rea that 'replaced' Diana Damrau. I considered her approach very interesting, as sketching a shy, fearsome even fragile character pretty introverted, that besides the scenic appearance and perfectly adapted movements, she had sung mainly in piano (often pianissimo), with short moments in forte. Her crystalline voice matched in an elegant and rigorous way with Donizetti`s score as she enjoyed endless ovation.

The rest of the cast...
Her score partner was tenor Piotr Beczala, who has met with success lately, acknowledged by the international top, striking a heroic and sensitive Edgardo, displaying a loud voice and an accurate technique, being unselfconscious and charismatic, possessing a true bel canto, but without any traces of excess or mannerist emphasis. In turn, baritone Eijiro Kai impressed the public by its dark, robust, ideal timbre for an incisive and furious Enrico role. And Ho-yoon Chung Arturo was very convincing, not being reserved as we are accustomed to, but even being vindictive and imposing. Bass Sorin Coliban in Raimondo`s role was genuine as a character, but related to his voice - although the score flew without the traditional 'cuts', having to sing as well the common scene with Lucia, which is prior to the wedding scene - I felt that his emission capacity was not the same with that one from his good times, that he no longer possessed that confidence and brightness, which recommended him as a great hope at the beginning of his career, singing the score with a certain slowness, even in the dramatic sequences.

Conductor
At the desk, Guillermo Garcia Calvo faced enough problems, from the surprising uncertainties of wind instruments to serious gaps between the orchestra and the choir or the sextet, and even in baritone`s dialogues which 'required' a more vivacious tempo, hence the orchestra remained several times behind them.

A classical direction
Enactment, dating from 1978 and directed by Bleslav Barlog, the scenery signed by Pantelis Dessyllas and costumes designed by Silvia Strahammer, provide a classic design, without anything special, but it recreates the charm and the specific atmosphere of that time, with beautiful costumes, but having rather dark scenes both outdoor and indoor the castle. But the layout of the choir is amazing, sitting on the left and right the chairs of the hall in the Mad Scene, witnessing impassively Lucia`s the despair and death. The final scene which is placed inside Edgardo`s castle, with walls and arches that house ancestors` tombs, adorned with massive sculptures, would be logical, but turns into an error when, in that space enters the funeral procession that bears Lucia`s body. We see altogether the funeral procession and Enrico's courtiers who are the worst enemies of that family, who have otherwise determined the whole tragedy. And it is not about reconciliation here, as in Romeo and Juliet.

Conclusions
A traditional show with beautiful and well supported voices, with enthusiastic applause and standing ovation both to 'open stage' and in the end of the opera, even though I expected the conductor to have been disputed more powerful, at least by opera lovers ... This time they may have preferred, after the few scattered 'Boo', to listen to the beautiful music interpreted (in the true meaning of the word) by young soloists of real value.
Anca Florea
Translated by Alinda-Gabriela Ivanov
MTTLC, Bucharest University