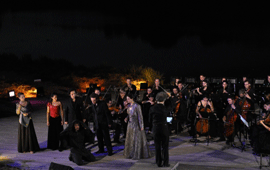 The EU Baroque Academy of Ambronay, in Bucharest
Friday, 13 July 2012 , ora 9.31

Two witty loyal servants
An avaricious father
Two lovers
An inopportune wooer
These are the six characters of The Marriage Contract, a comedy by Gioacchino Rossini, which I had the chance to watch Thursday, 12th July, at the Opera Studio of the National University of Music in Bucharest, in the interpretation of the European Baroque Academy of Ambronay, France.
If you wonder how an Academy of Baroque Music can interpret a romantic opera, Leonardo Garcia Alcaron, the conductor of the ensemble, has the answer. "I think that in the lyrical repertoire there is no place for cliches such as: it's baroque, it's classic, it's romantic. From the works of Roberto Cavalli to Verdi's Falstaff there is an unhindered continuity. In this comedy by Rossini lies the spirit of the Venetian baroque, because, let's not forget, that's where opera was born. Also, the Rossinian opus in question features Mozart rhythms, reminiscent of Figaro's Wedding, which influenced Rossini a lot. Mozart too was influenced by Baroque when he travelled to Italy as a teenager. Rossini continues this unhindered line. That's why, it's difficult to demarcate genres. I think we are dealing with seria and buffa operas"
And how can we not agree with him, even if we take into consideration only the play's plot: Fanny (Elisandra Melian), the daughter of the rich merchant, Mill (Job Time), loves Eduardo Milfort (Anthony Gregory), a young man disadvantaged in terms of wealth. In spite of all of the impediments, the two remain together thanks to the mediation of their two servants, Norton (Matthieu Heim) and Clarina (Alexandra Schoeny), as well as to the inadequate Slook, who becomes their friend. All of the characters are reminiscent of Moliere's comedies, which in turn found many inspiring subjects in Commedia dell`arte.
I was extremely impressed by the performance of the six young artists from Spain, the US, the UK, France and Portugal, which was further highlighted by an original direction with the most unexpected effects, under the lead of Stephane Groegler. The scenography too was very inspiring.
In its turn, the orchestra had an interesting performance. The only thing that I didn't like was the way the conductor positioned the wind instrumentalists on the stage, leaving only chord instrumentalists in the middle. The conductor argued that the sonority of the wind instruments-some of which were historic-wouldn't have been done justice to and come across as obstructed had the instrumentalists remained in the center. In spite of all this, I can't contest the fact that at no point were the voices eclipsed by the intense sonority of the instruments.
The European Baroque Academy was designated EU cultural ambassador and aims to prepare young musicians for their chosen careers.
Petra Gherasim
Translated by Vlad Nichita
MTTLC, Bucharest University