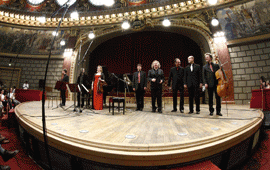 The Concerts of the 'Sergiu Celibidache' Festival - Day 4
Thursday, 5 July 2012 , ora 9.40

The fourth day in the series of concerts organized at the Romanian Athenaeum as part of the Sergiu Celibidache" Festival, has brought to the audience, in a chamber recital, "Sergiu Celibidache's Friends" - "Celi's Friends". This was the name given to the evening of 3
rd
July 2012, an evening in which the audience was presented with a very a successful show.

The Henschel Quartet
First on stage were the members of the "Henschel" Quartet, formed by the Henschel brothers - violinists Christoph and Markus, violist Monika and cellist Mathias Beyer-Karlshøj. The German ensemble (who is forever grateful to the Romanian maestro for all the knowledge he had shared with them in Munich during their first years performing together), was accompanied by the horn player Wolfgang Gaag for the first musical piece on the bill. His presence was no accident either. Shortly after the German musician graduated from the Berlin International Music Academy, Sergiu Celibidache hired him as solo horn player for the Munich Philharmonic. In this formula, we were lucky to listen to the Horn Quintet in E-flat major, KV 407 by Wolfgang Amadeus Mozart. If, for the first two parts we have, no doubt, noticed the elegance in interpretation and the perfect synchronisation, the latter part seemed to pose some serious problems, due to the horn player's hesitations. The explanation for this was given straight after the audience's round of applause, by Wolfgang Gaag himself, with a considerable dose of good humour. He admitted to having arranged his scores in the wrong way, and shortly after, we could hear the last part of the Quintet, this time played in an impeccable way. The "Henschel" Quartet continued with the String Quartet No. 6 in F minor, Op. 80 by Felix Mendelssohn, which stood out due to the excellent symbiosis of the four musicians.

Violinist Ida Haendel
The evening's most exciting moment was the one in which Ida Haendel came on stage. The venerable Polish violinist has studied with George Enescu, the one she claims was "one of the world's greatest genius". Her sole presence, together with the lesson on life an history included in her speech, have made the audience cheer endless cheers both after she played Poem Op. 25 by Ernest Chausson together with pianist Misha Daciæ and after the Adagio and from Bach's Sonata no. 1 in G minor.
After the break, three of the musicians from the "Henschel" Quartet came on stage once again together with pianist Misha Daciæ and contrabass player Dorin Marc, in order to perform the famous "Trout" Quintet by Franz Schubert. It was a remarkable version, full of life, in which every single detail was highlighted with gravity and good taste. This was the end of the three hours performed by "Sergiu Celibidache's Friends" - exceptional musicians, that have been in one way or another, guided in their careers by the Romanian musician.
Dan Ghineraru
Translated by Mihaela Melneciuc
MTTLC, Bucharest University