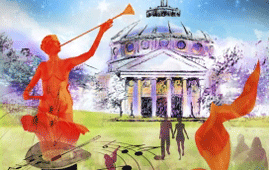 1st August 2012 - Romanian Youth Orchestra at the 'Magic Summer' Festival
Thursday, 2 August 2012 , ora 14.49

A new concert included in the Magic Summer Festival, put up by Lanto Communication Cultural Foundation, took place on Wednesday, 1st August, at the Romanian Athenaeum. Even though the programme was modified, pianist Mihaela Ursuleasa being unable to attend due to medical reasons, the audience filled the hall once again, to listen to the Romanian Youth Orchestra, conducted by maestro Cristian Mandeal.
The programme was remarkable and varied: two works of Romanian composers framed those from the Romantic period. Opening piece, 'Eldorado' by Dan Dediu, piece which was also performed in first audition by the Romanian Youth Orchestra and Cristian Mandeal on 31st July in Sinaia, at the beginning of the 'Enescu and World Music' Festival, next the overture of the opera 'La Forza del Destino' (The Force of Destiny) by Giuseppe Verdi and the symphonic poem 'Don Juan' by Richard Strauss. During the second half of the concert we listen to the 'Symphonic Dances' by Sergei Rachmaninoff and George Enescu's 'Romanian Rhapsody No. 1'. A demanding programme, where the Orchestra proved once again its professionalism, the homogeneity of the instrumental parts and the dynamic amplitude, although intensity should not become the only ingredient that offers sound consistency to a performance. Their interpretation was highly appreciated by the audience, which was rewarded with two encores: 'Pas de Deux' from the ballet 'The Nutcracker' by Pyotr Ilyich Tchaikovsky and the 'Staccato Dance' by Gigoras Dinicu, orchestral version.

How did conductor Cristian Mandeal feel being once again on stage together with the young musicians?
'It's a challenge every time, because this orchestra is like a bet I've made with myself, that in a very short period of time I can create an orchestra out of nothing, without any tradition, or history, but which I have managed to bring together as a true sound body, connected and with a superior performance.'

What does this ensemble win with every appearance?
'First and foremost cohesion, it wins experience, maturity and a capacity to connect and create superior music. Every concert brings, in a way, both new and old things, and the old things, every time they come back, I have the feeling they are better and better accomplished.'

After their appearance at the Romanian Athenaeum, the orchestra has already begun its voyage towards its next concert, which will be on 4th August, in Berlin, during the twelfth edition of the 'Young Euro Classic' Festival. Further details again from maestro Cristian Mandeal:
'There is in Berlin an international festival for youth orchestras, it is the most prestigious festival of its kind in the world, where orchestras are invited to attend, an impressive number of orchestras from all over the world, from Africa, from Singapore, from South America, from Europe and where we also will be for the first time and of course this makes us very committed. It is our ambition to deal with as best we can and to be able to stand, from a qualitative point of view, next to orchestras with an older tradition. It is no secret that these types of orchestras have existed in the world for tens of years and that just for us, in Romania, they are something new.'
Andreea Chiselev
Translated by Florina Sămulescu
MTTLC, Bucharest University