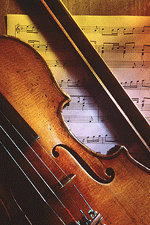 Debut for the 2012 'Sighisoara Musical Academy'
Thursday, 2 August 2012 , ora 15.05

The nineteenth edition of the Musical Academy began on 1st August, 2012, in Sighisoara, academy which was created, years ago, by violinist Alexandru Gavrilovici. It commenced in the presence of the ambassador for Switzerland, Jean-Hubert Lebet, who celebrated Switzerland National Day on 1st August - and also in the presence of the mayor of the city, who held the opening speech - and afterwards we were able to listen, with avid interest I might say, to young Helena Winkelman, in a double role, as a violinist and as a composer. The programme was made up of several pieces, personal creation, some in first audition, performed either solo, or together with pianist Dana Ciocarlie, with whom she has been collaborating for a long time and who came to Sighisoara from Paris for the first time.
Interesting pieces, with a modern construction naturally and with an interesting technical aspect to her composition, sometimes surprising and we also listened in the end to a fragment from Helena Winkleman's first quartet, which she sang together with Alexandru Gavrilovici, Benedict Schneider and cellist Eva Vess, a very special piece, the same as the others, a sign that the young composer gradually makes her stand at least in the sphere of the chamber music genre.
The structure of the whole programme was very interesting, because besides Schubert's 'Hungarian melody for solo piano' the rest were only works from the 20th century, several signed by composers born in Romania but who later made their debut in Hungarian culture, Gyorgy Ligeti, Gyorgy Kurtag and after a change in the programme, Bela Bartok and, of course, next to these pieces, George Enescu's 'Impromptu Concertant'.
All this made for an interesting experience, also discovering a young woman – Helena Winkelman – whom I have honestly preferred as a composer and less so as a violinist. I perceived Dana Ciocarlie feeling comfortable playing chamber music, I've applauded that very homogenous quartet and I have discovered that a hall filled to its capacity managed to hold out to a fairy difficult 20th century programme for the general audience, but which was well interpreted and so, with an added bonus of appeal for those who perhaps only discovered those score that evening.
Next, on 2nd August 2012, an ensemble from Switzerland with entirely different programmes, but which will be equally attractive, for sure.
Anca Florea
Translated by Florina Sămulescu
MTTLC, Bucharest University