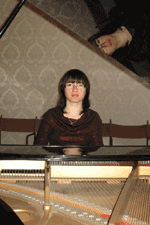 Tuesday Evening Season
Wednesday, 9 January 2013 , ora 9.02

Ludwig van Beethoven's sonata in F Minor
Appassionata
was the pianist
Adela Liculescu's
choice for the final performance of the complete event dedicated to the great composer. "The sheer enthusiasm" of the young musician was the trigger of the full house at the Small Hall of the Romanian Athenaeum, on Tuesday, 8
th
January, 2013.
During her recital, which was part of the Tuesday Evening Season events, Adela Liculescu performed three of Beethoven's sonatas: op.2, nr.3 in C Major, op.31, nr.3 in E flat Major and op.57 in F Minor Appassionata.
"I have been longing for a long time to give a recital based on an author's compositions; this is a first for me. It is my wish to render Beethoven because he is a source of inspiration for me; moreover, I want to host a diverse event using compositions from different periods of his work. I hope I managed to do it so: to offer the audience a wide range of compositions".
There was indeed 'a wide range of compositions' within a meticulous selection which was rendered accurately regarding the instrumental technique, abounding in eloquence and youthful effusion. Adela Liculescu is a young pianist who graduated from the 'Marin Sorescu' High School of Arts in Craiova. She is now a student at The University of Music and Performing Arts in Vienna attending Martin Hughes' classes. Adela Liculescu is 20 years old and despite her age she holds a great track record; she has recently won the first prize at the Elena Rombro Stepanow Piano Competition in Vienna in 2012. Now before her third appearance on the stage of the Small Hall of the Romanian Athenaeum, Adela Liculescu remarked:
"I am pleased to perform on the stage of the Athenaeum because I have lots of friends in Bucharest who come to see me here. This is my third recital at the Small Hall of the Athenaeum; I look for this opportunity to perform in my country. After this recital I'm going to Vienna to take my exams. I will come back for a recital in Craiova and for another 'Beethoven' event in Râmnicu Vâlcea."
Both a pleasant stage appearance and a very nice musical 'surprise'- Adela Liculescu certifies her talent which will certainly reach the acme of her art. We look forward to hearing about her future outstanding performances.
Jeanine Costache
Translated by Sorina Cimpoeru and Elena Daniela Radu
MTTLC, Bucharest University