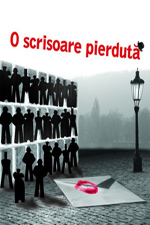 Dan Dediu's 'O scrisoare pierdută' - The Most Recent Premiere Production at the Bucharest National Opera
Monday, 14 January 2013 , ora 9.33

Dan Dediu's third performance of the work "O scrisoare pierdută", the most recent premiere production of the National Opera took place on Sunday, 13
th
January, 2013. It was designed to run as a short series and perhaps the performance which is scheduled on 3
rd
February will be the last one. The Sunday evening concert broke the record of the Romanian performances by having its artists perform before a full house. The three hour concert was remarkably organized and it represented a pleasant surprise for the repertoire due to its oriental and suburban elements - that bore the hallmarks of Paul Constantinescu's style - along with waltz, tango and cancan influences which were reflected in a humoristic and satiric manner especially mirrored by the orchestra. The outstanding performance of the orchestra was conducted by
Tiberiu Soare
, a master at this type of scores who is quite interested in interpreting contemporary music.
It was indeed a complex cast including young soloists who performed extraordinarily or, at least, scrupulously. It was a meticulous, systematic and accurate concert; yet, the acting lacked sparkle. There were, of course, some exceptions: firstly, Florin Diaconescu - an obviously charming Trahanache who revealed his acting talent and wit beside his skills as a soloist and the tenor Liviu Indricău who has a very bright future and who performed and played the role of the lovely inebriated citizen. The tenor Andrei Lazăr's pleasant, lyrical and high standard performance outlined Cațavencu, a far more different character than its prototype due to the tenor's issue in dealing with high-pitched sounds, but who has an opera singer's voice. Moreover, Ștefan Schuller performed accurately as Pristanda and joined Tina Munteanu on stage in the lovable character of Zoe although the outcome did not meet my expectations and the baritone Stefan Popov, from the "Ion Dacian" Operetta Theatre, in the role of Tipătescu. Worth to be mentioned is the mise-en-scène of Viorica Petrovici - an excellent and very suggestive one; nevertheless, I am reluctant to Ștefan Neagrău's direction who was also responsible for the libretto which lacked wit and continuity to the stage movement. The only constant element, let's put it this way, represented Caragiale's work which was brought to be as recent as possible. That added zest to the performance.
The performance drew applause; yet, the musicians and the connoisseurs amid the audience were not at all amused although a work of Caragiale had never failed to amuse anyone. As I said, it is a novelty to the repertoire which runs in short series that makes me question all the costs and great efforts of the ensemble.
Anca Florea
Translated by Sorina Cimpoeru and Elena Daniela Radu
MTTLC, Bucharest University