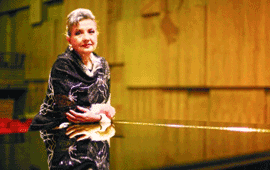 The 19th Edition of the 'Iolanda Mărculescu' Scholarship
Friday, 18 January 2013 , ora 8.45

No words can describe the importance of a very close teacher for a musician's training. In the case of soprano
Georgeta Stoleriu
, who, throughout the years, has trained famous figures of the Romanian lyric scene such as Ruxandra Donose, Felicia Filip, Liliana Nichiteanu, Mirela Zafiri, and Irina Săndulescu, the role of a mentor was assumed by Iolanda Mărculescu. In the memory of this top-class musician, Georgeta Stoleriu set up a scholarship aimed at young talented musicians in 1995, whose first winner was tenor Marius Brenciu.
On Thursday, 17th January, 2013, the Bucharest National University of Music hosted the 19th edition of the 'Iolanda Mărculescu' Scholarship, which was opened by a recital given by sopranos Georgiana Simonov and Elena Dincă, the scholarship winners of last year's edition, accompanied on the piano by Inna Oncescu. The programme made up of works composed by Felicia Donceanu, Valentin Teodorian, Alfredo Catalani, and Giacomo Puccini ended with the performance of Felicia Donceanu's chamber opera called Una Volta alla Corte del Principe, a work which gave Georgeta Stoleriu the chance to perform as a soloist, alongside Verona Maier on the harpsichord and percussion instruments and Anca Iarosevici on the viola da gamba. After a round of applause which rewarded the evening performance there followed the presentation of this year's winners of the 'Iolanda Mărculescu' Scholarship. The winners were soprano Alexandra Tărniceru, from Claudia Codreanu's singing class, as well as two of Georgeta Stoleriu's students, bass Filip Panait, who received a scholarship offered by Ileana and Cătălin Ursu, and soprano Ana Maria Manea, who benefited from a scholarship offered by soprano Felicia Filip.

Soprano Felicia Filip said the following:
'The criteria by which you choose the student to whom you offer a scholarship are, of course, those proposed by Ms. Georgeta Stoleriu, as there is no better judge than her! I don't know whether it is an accident or not, but I bring luck to the student who receives my scholarship.'

Ana Maria Manea, one of this year's scholarship winners, declared as follows:
'It is definitely the most important award I have ever received, and I think that it will also be the closest to my heart throughout my eventual career.'

What does Ms. Georgeta Stoleriu mean to you?
She is my mentor, my teacher, and she is also like a mother to me. Moreover… she is like a mother I love dearly.
A unique undertaking on the Romanian music scene, the 'Iolanda Mărculescu' Scholarship is not an actual competition, but a reward for the progress of young musicians throughout the year. Also, as time has already shown, Georgeta Stoleriu's expectations have been successfuly confirmed most of the time.

*

Happy birthday, Ms. Georgeta Stoleriu!
Thank you.

You are the initiator of the 'Iolanda Mărculescu' Scholarship, which you awarded for the nineteenth time on Thursday evening (17th January, 2013). What is the significance of this scholarship, which you award around your birthday?
It is a homage I pay to the memory of my former teacher, Ms. Iolanda Mărculescu, to whom I am more and more grateful as time goes by. The fact that I always award it around my birthday has to do with me considering it to be one of the most beautiful presents I can give myself on my birthday.

What are criteria by which you select the scholarship holders?
Throughout the year, I follow the activity of students from other classes to see how they perform during auditions and exams. Of course, I firstly focus on those who show far-reaching qualities, after which, from afar, I try to do my best to guess their character as well, so I'm also interested in the extraprofessional information. Last but not least, I try to focus on those who I feel they need material support, at least for the moment. Last night I offered my scholarship to a young lady who is in Ms. Claudia Codreanu's class - her name is Alexandra Tărniceru and she is already in her final year of study, namely the second year of her master's degree. As almost always, I was joined by Felicia Filip, who awards a second 'Iolanda Mărculescu' scholarship; this year she gave it to a third-year young lady, whose name is Ana Maria Manea. There was another surprise in store last night, namely the fact that Ileana Ursu and her husband Cătălin Ursu, two former editors from the Romanian Radio, now living in Canada, wanted to award a scholarship in memory of Ms Iolanda Mărculescu, and they gave it to bass Filip Panait, a fourth-year student.

What are your projects for the future period?
I am preparing another concert, also an anniversary one, within 'A Performer's Afternoon' Chamber Season, at the Bucharest Metropolitan Library, on 28th January, when both Ms. Felicia Donceanu and I will be celebrated, as we are both born in January. I will give a recital alongside the Early Music Studio in March. I will take part in a composition competition, a result of a Romanian-American partnership, and so on.
Alexandra Cebuc
Translated by Cristina Firoiu and Elena Daniela Radu
MTTLC graduates, Bucharest University