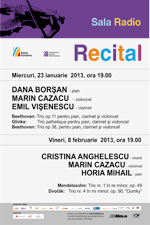 Four Great Composers and Five Appreciated Romanian Musicians in Two Recitals at the Radio Hall!
Tuesday, 22 January 2013 , ora 8.37

If you wonder where you could listen to good music on a cold winter night, with scores by Beethoven, Glinka, Mendelssohn or Dvoűák, performed by well-known musicians around the country and abroad, you will discover the answer by enjoying two recitals at the Radio Hall.
On Wednesday, 23th January, at 19:00 , the ones who will perform and entertain you are as follows: the pianist Dana Borșan - the soloist-concertist of the concerts for the Radio Orchestras and Choirs with more than 900 concerts and recitals in the country and abroad, together with one of the best Romanian violinists - Marian Cazacu, the one who performed with famous conductors and soloists from the entire world and the clarinetist Emil Vișenescu, the soloist-instrumentalist of the "George Enescu" Philharmonic and an active musician in various ensembles. The programme will include two works by Beethoven: Trio op.11 for the piano, clarinet and cello and Trio op.38, for clarinet, cello and piano, and a score written by the Russian composer Mihail Ivanovici Glinka, Trio pathétique for clarinet, piano and cello.
On Friday, 8th February, at 19:00, the violinist Marian Cazacu will come up again on the stage of the Radio Hall, this time with the pianist Horia Mihail - acclaimed on four continents and recently in Romania for the concerts performed - and the violinist Cristina Anghelescu, with a vivid presence on the stage of every Romanian Philharmonic Society. In the programme, you will discover Felix Mendelssohn's work- Trio no.1 in D minor, op.49 and one of the most beautiful scores composed by the great Czech composer, Antonin Dvoűák: Trio no.4 in E minor, op.90, Dumky.
For further information regarding the 2012-2013 season of the Radio Orchestras and Choirs, please refer to the following website: orchestre.srr.ro.

Translated by Andreea Mesescu and Elena Daniela Radu
MTTLC, Bucharest University