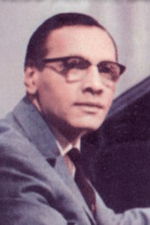 Remember Jancsi Korossy
Tuesday, 22 January 2013 , ora 8.41

Pianist, composer and jazz arranger
Jancsi Körössy,
the first musician who combined Romanian musical folklore with American jazz sounds and who created the
free
style in Romanian jazz died on Monday, 21
st
January, 2013. Jancsi Körössy is considered one of the most authentic jazz pianists in Europe and one of the most valuable jazz musicians in Romania.
Born in 1926 in Cluj-Napoca, Jancsi Körössy settled in the United States of America over 40 years ago. The awards he received at important jazz festivals, his solo records or his collaborations with other musicians (Jancsi Körössy - Jazz Recital, Jancsi Körössy Plays His Own Compositions, Identification), his entire activity set him on the axis of the musicians who contributed to developing the international jazz language.
In 1975 he was awarded a prize by American president Jimmy Carter for extraordinary cultural merits in jazz, in 2002 he received the prize for the most valuable musician in diaspora, offered by Radio Romania, and in 2006 he received the Order of the Legion of Honour at the rank of Commander from the Romanian president.

*
Jancsi Körössy, in a part of the interview given to our colleague Daniela Nicolae, for the 'Jazz Collection' radio show:
"I love playing the piano. Music is my life, so to speak, truly, not just to make it sound nice! Indeed, I could not have a life without music; I would simply exist, but I would have no life. I am lucky to have realised for a while what this music comes from, what it is, and I am ready to play anytime I sit at the piano or when I am not at the piano. Ideas come to me, fantasies, musical sentences for the beginning of important musical works that I have never made so far - perhaps I will from now on. I have not made them so far because I have never studied, I did not have a teacher. Here, on earth, I could have had the greatest masters as teachers, in Romania, because I was recommended by some friends who had studied music and who thought I should study it, too. But I did not have the courage to accept to study with anyone; I have never thought I would be able to remember what a master would teach me. I feel embarrassed when I go to the Union of Romanian Composers and I hear someone call me 'master'. I do not like it; I don't think I am a master."

Florian Lungu, one of the people who know a lot about life and, more importantly, about Jancsi Körössy's activity, who left us on Monday, 21st January, 2013. How did you meet him, how was he as a person, and most importantly, what did we lose when Jancsi Körössy died?
We met many years ago, when he was still in Romania. He emigrated over 40 years ago; first to Germany and then to the United States of America, called by great jazz show organizer, Willis Conover from the Voice of America. I met him when he was playing the double bass with Johnny Rãducanu, when he was a tenor-saxophonist with Dan Mândrilã and when he had an apartment around Amzei Square. He made some great coffee. But then he left, he reached Germany, where he released an extraordinary record, Identification, which was very successful with the public.
With the funds he had made from selling the record he crossed the ocean and reached the USA, settling in Atlanta, Georgia. In fact, he was born on 26th December, 1926, in Cluj. I visited him less than a month ago, he was living in Bucharest, in the apartment of his piano partner Ramona Horvath, a very talented young lady, who he released a great record with, called Missing home; she has been active mostly in Paris, lately. He had colon cancer, got a surgery and it seemed that he was on the right track, as he had a very healthy organism, so we hoped he would get better. That was on 26th December, we met Nicolas Simion, because we are preparing a record these days…

He has just told to us about him: with two concerts from the 70s.
Exactly. He had an extraordinary solo piano concert in 1972 in Atlanta, which proves that he was a great musician. He was self-taught, but a genius, I dare say, because few people manage to understand music like he did, to accumulate the values of the art of sounds. He had a great capacity to process, to transfigure, to resize and redress certain musical subjects that were, in fact, pretexts for the labour he was making on the keys, but not just there. When he was 19, Jancsi Körössy came to Bucharest and in the 60s he stunned his audience with the brilliant technique, the complexity and subtletly of the harmonies, and most importantly with the unending creativity he showed in his improvisation. We can consider him a true school master of the Romanian jazz; he still is the creator who authorised and materialised five decades ago the idea of reformulation of certain inflexions and Romanian-specific rhythms in the jazz language - and that was decades ago before the style and the term ethno, which are fashionable today, have became commonplace. He was also one of the first jazz players who cultivated the free jazz style in our country, which developed here in the 50s-60s. Older jazz lovers remember the concert where the pianist propelled the very young Aura Urziceanu into the jazz world, in a memorable show that took place at Sala Dalles. Then he took part in the inauguration of the Students House Jazz Club in Bucharest, where he performed solo in 1968, and later in a trio. But we can also mention the remarkable recordings he did in the studios of the Romanian Radio Broadcasting Company. The Radio archives include a whole series of recordings that have not been used before and I shall try to talk to the people in charge to value this recording patrimony to leave them to posterity on CD.

Saxophonist Nicolas Simion, one of the Romanian musicians who collaborated with Jancsi Körössy and known him closely. What do you think we lost and how do you remember him?
The last time I saw him was on 3rd January, before I went back to Germany and, after the surgery he had last August, he was still physically weak, yet very ambitious, he had positive energy, he wanted to do new things, to restart the career he had interrupted for so many years and he had a lot of things to say, a lot of songs he had played and recorded - some of them - but which he hadn't written down andwanted to put on paper. He was an inspiring man who gave you confidence and there was a lot to learn from him.

What did the Romanian jazz lose; certainly a full page of history, but perhaps you could shape it more clearly than I do?
Let us face it, all the Romanian jazz musicians we know, Aura Urziceanu, Johnny Rãducanu, Dan Mânzilã, Marius Pop, Richard Osanitski and everyone else, all learned from him. I mean, he was the first one to understand that Romanian folklore could be transferred to jazz and could be adapted and he was a genius improviser. We have to listen to his recordings and rediscover him to realise fully who he was and what we have lost.

How about Jancsi Körössy the man?
Jancsi Körössy the man, to tell you discreetly, was rather a difficult man, but he was very fair, he made no compromise and he thought about music 24/7, listening, playing, arranging music, this was his whole world.

And unfortunately we lost him, may he rest in peace. Let us see what we can do with his legacy, so that we wouldn't forget him completely.
Of course, he has a few recordings and I, myself, will release a double CD with the music he recorded in 1972 and 1975, two solo concerts, which we hope will be released in April. We even wanted to organise a homage concert, but unfortunately it will become a memorial concert.

Translated by Irina Bortoi and Elena Daniela Radu
MTTLC, Bucharest University