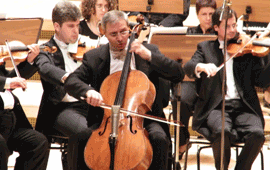 Tuesday Evening Season - 22th January, 2013
Wednesday, 23 January 2013 , ora 8.51

Symphonies for flute, viola and two cellos -
a work by Cornelia Tăutu and performed for the 1
st
time - it was next to three other works by Liviu Dănceanu and Dumitru Capoianu - one of the pieces dedicated to Cazacu family by the above-mentioned musicians.
On 22th January, at the Small Hall of Romanian Athenaeum, the members of the Cazacu family offered an amazing concert to the audience. The seniors - the flutist Constanța Cazacu and the famous cellist Marin Cazacu - gave birth to and educated two musicians with a brilliant career ahead- the violinist Iuliana Adriana Cazacu and cellist Ștefan Cazacu.
The cellist Marian Cazacu spoke about this "Musical Family Hall" performed on the stage of the "Tuesday Evening Season":
"A performance, that not only involves in everything we do, but also keeps us together. These are the little peaks of our lives. We try to bring joy to those who listen to us in a concert, through internal strength and daily work. This evening, we shared the happiness with the audience because the programme included works dedicated to us with love and we wholeheartedly engaged in performing them as they were created for the Cazacu family. The fact that each of us was able to interpret an individual work with to one's own instrument, then perform as a duo, created the ground that unites a family. We are united and we hope to remain together so to be able to enjoy music and what it conveys: emotions for those who listen to it and a connection with the musical life so that the audience perceive that there were musical families 100-200 years ago and these families can still live today even though life is harder and different than it was centuries ago. There is this joy of creating music in the family, because nothing is more beautiful than creating music at home, in your own space and preparing a programme that you will perform on stage afterwards and see people enjoying it as much as you do moment by moment, second by second alongwith the music you are gradually discovering."
Enthusiasm, warmth, friendship, the joy to perform accompanied by a flawless instrumental technique and refinement were offered by the members of the Cazacu family no matter if they performed together, individually or as a duo. I enjoyed the well-chosen programme performed with unconditional devotedness, together with the music lovers that filled the Small Hall of the Romanian Athenaeum, and I left with the feeling that the musical heritage of the Cazacu family would be taken further by the two teenagers: the violinists Iuliana Adriana Cazacu and Ștefan Cazacu.
Jeanine Costache
Translated by Andreea Mesescu and Elena Daniela Radu
MTTLC, Bucharest University