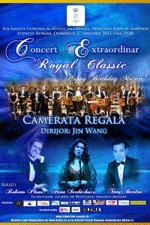 'Happy birthday, Mozart!' - at the Romanian Athenaeum
Monday, 28 January 2013 , ora 8.54

'The Royal Camerata is inviting you to prepare for the most important anniversary in January, that of Wolfgang Amadeus Mozart, who was born on 27
th
January, 1756, just as young and alive 257 years later for all beauty lovers.' - Such was the beginning of the
Royal Camerata
's press release that announced the Royal Classic concert dubbed 'Happy birthday, Mozart!', which took place on Sunday, 27
th
January 2013, at the Romanian Athenaeum. Indeed, Mozart is as young and alive 257 years after his birth, which we all felt throughout the entire concert.
The programme started unusually, with a symphony, and ended with an overture - what seemed to be the end was just a new beginning. And so it proved, if we think about all the encores that followed. Pianist Roberto Plano played the Concerto in A major. It was one of the many important moments of the evening, because the pianist - who received awards at very prestigious competitions - offered us a rather less playful version of the score, but a very lyrical one, which intensified its tender spirit. Certainly, he played the score in a rather melancholy tone, which none the less was nonetheless uplifting, immaterial when including Mozart's duality which appears - as Theodor Paleologu said - to be a combination of the lightness of the musical phrase and the complexity of the message it conveys. Theodor Paleologu attended the concert on Sunday night to comment upon the programme. His speech was concise, highlighting the relevant details of the works that were presented, due to very interesting analogies, which proved that we were listening to a man who took his love for music seriously.
After the intermission we listened to a few splendid arias from Mozart's works. To this end, the stage saw alternately soprano Irina Iordăchescu and tenor Tony Bardon, who gave life to characters we all know: the Countess in The Marriage of Figaro, Fiordiligi or Ferrando in Cosi fan tutte, or Alessandro in Il Re Pastore. Both were cheered and applauded minutes on end. There was a wonderful coup de theatre in the end, when they wanted to encore the aria 'La ci darem la mano' from the opera Don Giovanni, but the musicians noticed at the last moment that there was no baritone for the male part. The aria in which Irina Iordăchescu had resigned to sing both roles had already started, when baritone Valentin Vasiliu rose from the audience, climbed up the stage and continued the duo alongwith the soprano. This enchanted everyone and was a very pleasant surprise. Finally, I would like to add that the soloists had to share their success with the Royal Camerata, a truly energetic and lively ensemble that makes real progress from one concert to the other, under Jim Wang's baton, a conductor who has become their mentor. Theodor Paleologu admitted he was a great admirer of education according to French philosopher Michel de Montaigne's model, which applied his motto 'Je ne fais rien sans joie/ I do nothing without joy.' The Camerata members and Jim Wang do nothing without joy either, and we all saw that allowed them to offer us an excellent evening.
Petra Gherasim
Translated by Irina Borțoi and Elena Daniela Radu
MTTLC, Bucharest University