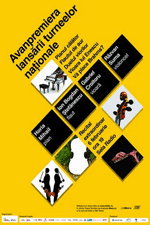 The Classical Music Bands of the 2013 Nationwide Tours Have Reunited For the Special Event Hosted By the Radio Hall
Wednesday, 30 January 2013 , ora 9.18

Did you make a resolution to attend every worthwhile concert this year given the missed opportunities to go to the most important tours of classical music in Romania?
At the Radio Hall, at 7 p.m. on Wednesday, 6th February, an outstanding recital reuniting some of the most valued Romanian musicians at the moment will take place. In other words, it is a preview of the nationwide tours that are planned for this year.
The pianist Horia Mihail - bewitched by his magic instrument- is on tour with "The Travelling Piano" whilst Ion Bogdan Ștefănescu plays the sole 18 - carat gold flute in Romania (issued on the Muramatsu Japanese Company label) on "The Golden Flute" tour. Gabriel Croitoru is to launch again on "The Violins Duel" which will then be followed by the initial tour "Enescu's Violin". Whilst the previous year the cellist Răzvan Suma came up with the title "Do you enjoy Bach?" in 2013 the new challenge is called "Do you enjoy…Brahms?"
The special concert held at the Radio Hall brings you "samples" of the highest quality which one can also enjoy during this year's tours. The evening's repertoire is based on compositions by Ludwig van Beethoven, Otar Taktakishvili, Mike Mower and Johannes Brahms.
Please do not hesitate to contact us if you require any further information about the 2012-2013 seasons of the Radio Orchestras and Choirs orchestre.srr.ro.

Translated by Sorina Cimpoeru and Elena Daniela Radu
MTTLC, Bucharest University