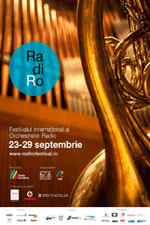 Extraordinary Concerts from the RadiRo Festival Broadcast in Premiere on the TVR Channels, Starting Sunday, 27th January!
Thursday, 24 January 2013 , ora 9.15

For those who did not have the chance to partake of the events held during the first international festival for the radio orchestras - "RadiRo", a Radio Romania production, which took place in Bucharest between 23
rd
and 29
th
September, 2012, or did not have the chance to listen to them live on Radio Romania Culture or Radio Romania Music, TVR starts a series of broadcasts consisting in 13 extraordinary concerts performed at the festival. Reuniting big orchestras, soloists and conductors at the Radio Hall and the Palace Hall, in an event that lasted one week and was perceived as a welcoming contribution to the Romanian cultural picture in the years when the Enescu Festival is not held, RadiRo was produced by Radio Romania alongside with the Bucharest Town Hall - through ARCUB and TVR - and organised by ARTEXIM.
On Sunday, 27th January, starting at 18:30, opening the programme, you can watch the premiere of the documentary about RadiRo, made by Virgil Oprina for Radio Romania. The concerts will be available on TVR 2 (between 27th January and 14th February, starting at 13:00) and on TVR International (starting on 11th February, 2013, from Monday to Friday, at 15:00).

The TVR 2 full broadcasting schedule:
Sunday, 27th January - at 18:30 (rerunning Tuesday, 29th January - at 14:00)
RadiRo Festival, 2012 * Making of
A Radio Romania production.
Producer: Virgil Oprina

Broadcasting concerts selections
CONCERT 1 - 28th January, at 13:00 - RAI Torino Orchestra, Conductor: JURAJ VALCUHA. Soloist: ALEXANDRU TOMESCU
CONCERT 2 - 29th January, at 13.00 - RAI Torino Orchestra, Conductor: JURAJ VALCUHA
CONCERT 3 - 30th January, at 13.00 - RAI Torino Orchestra, Conductor: JURAJ VALCUHA. Soloist: CHRISTIAN ZACHARIAS
CONCERT 4 - 31st January, at 13.00 - RAI Torino Orchestra, Conductor JURAJ VALCUHA
CONCERT 5 - 4th February, at 13.00 - RADIO FRANCE ORCHESTRA, Conductor: ION MARIN
CONCERT 6 - 5th February, at 13.00 - RADIO FRANCE ORCHESTRA, Conductor: ION MARIN; NATIONAL RADIO ORCHESTRA , Conductor: CHRISTIAN ZACHARIAS
CONCERT 7 - 6th February, at 13.00 - NATIONAL RADIO ORCHESTRA, Conductor: HORIA ANDREESCU. Soloist: MAXIM VENGEROV
CONCERT 8 - 7th February, at 13.00 - NATIONAL RADIO ORCHESTRA, Conductor: HORIA ANDREESCU. Soloist: Maxim Vengerov
CONCERT 9 - 8th February, at 13.00 - BBC ORCHESTRA, Conductor: JUKKA PEKKA SARASTE. Soloist: VIVIANE HAGNER
CONCERT 10 - 11th February, at 13.00 - BBC ORCHESTRA, Conductor: JUKKA PEKKA SARASTE
CONCERT 11 - 12th February, at 13.00 - BBC ORCHESTRA, Conductor: JUKKA PEKKA SARASTE. Soloist: DAN GRIGORE
CONCERT 12 - 13th February, at 13.00 - ORCHESTRA BBC, Conductor: JUKKA PEKKA SARASTE
CONCERT 13 - 14th February, at 13.00 - ORCHESTRA NAŞIONALÃ RADIO, Conductor: CHRISTIAN ZACHARIAS. Soloists: SIBYLLA RUBENS - soprano, RUXANDRA DONOSE - mezzo-soprano, JÖRG DÜRMÜLLER - tenor, SEBASTIAN HOLECEK - bas-baritone

Translated by Alexandru Neagoe and Elena Daniela Radu
MTTLC, Bucharest University