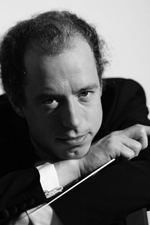 German Conductor Ralf Sochaczewsky Arrives at the Radio Hall for the World Radio Day
Wednesday, 6 February 2013 , ora 9.48

This year the entire world celebrates for the first time the World Radio Day, on 13
th
February. Set by UNESCO, the date marks the first broadcast of the United Nations' radio station, in 1946.
On this special occasion, Radio Romania Orchestras and Choirs will offer a grand concert to the audience. After conducting prestigious ensembles over the past few years, such as the London Philharmonic, the Leipzig Orchestra of Musical Comedy, the Minsk Philharmonic Chamber Orchestra or the Strasbourg National Opera Orchestra, German conductor Ralf Sochaczewsky is invited on Wednesday, 13th February, 2013, starting 7:00, at the Radio Hall. He will lead the Radio Chamber Orchestra and offer you an interesting programme including works by great composers such as Ravel, Mozart and Rameau.
The evening will begin with a suite for orchestra from the famous opéra-ballet Les Indes Galantes by French baroque composer Jean-Philippe Rameau, arranged music by the conductor himself . The opéra-ballet genre, which is no longer common today, used to be very popular as early as Louis XIV, whose nickname (the Sun King) comes from a role that he played in a ballet show! The score of Les Indes Galantes combines dance and music just like a contemporary musical, on the background of a love story placed in an exotic space with no clear setting.
The Concerto for Flute, Harp, and Orchestra in C majorcomposed by Mozart has a very pleasant instrumental combination, and the soloists you shall hear are Marian Olaru - flute, instrumentalist soloist of the Radio Chamber Orchestra and Ioana Nicolescu - harp, member of the 'George Enescu' Philharmonic in Bucharest.
This time, it will not be the famous Bolero that will be played at the Radio Hall, but Ravel's Couperin's Tomb, a score that was dedicated to his friends who perished at Verdun, during the First World War.
For more information on the 2012-2013 Radio Orchestras and Choirs season please see orchestre.srr.ro.

Translated by Irina Borþoi and Elena Daniela Radu
MTTLC, Bucharest University