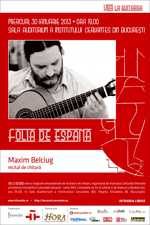 Viva la Guitarra! - a New Guitar Season
Thursday, 31 January 2013 , ora 7.55

After the 2012 wintery guitar ended successfully, the music dedicated to the instrument of Spanish origins returns into the focus through a season entitled
Viva la Guitarra!
. Organized by the Cervantes Institute in Bucharest and by the cultural association Kitarodia, the series of performances is due till June, each last Wednesday of each month.
The first musical evening included in this season was on Wednesday, 30th January, and it meant the meeting with guitarist Maxim Belciug, that proposed the audience under the title Folia de Espana, an incursion in the Iberian musical ethos, starting from the Renaissance period and reaching the modernity. From the majestic musical arrangements of Fernando Sor's Pavana, to the passionate Bolero composed by Julian Arcas to the melancholic Memories from Alhambra by Francisco Tarrega or the Cuban rhythms from Guajiras cubanas musically described by Severino Garcia Fortea, the repertoire played by Maxim Belciug passed through different eras, illustrating the diversity of the Spanish and South-American culture, inspiring meditation and uncurbed joy. There were also present the songs selected from the traditional Catalan music and flamenco, that pleased the years of the audience if we were to judge by the loudness of their applause.
Guitarist Maxim Belciug
"The initiative came up easily. I and some Romanian guitarists planned to conquer the Spanish redoubt. As we know today, the guitar has its origins in Spain. We agreed with the Cervantes Institute to play Spanish and Latin-American music in this room of the institute. We came up with a Spanish repertoire, as I hope that sometime later in the year to also play from a Latin-American repertoire."
The Viva la Guitarra! Season started off well through a real Spanish madness that will continue with the evolution with some of the most valuable guitarists of the present: Cătălin Ștefănescu Pătrașcu, Olivia Iancu, Claudiu Lobonț și Tiberiu Gogoanță.
Therefore 2013 is announced to be a year full of events dedicated to guitar music, and its fans should not miss the musical evenings from the Cervantes Institute, especially that the entry is free.
Alexandra Cebuc
Translated by Iulia Florescu and Elena Daniela Radu
MTTLC, Bucharest University