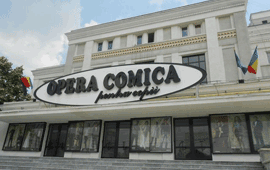 The Children's Comic Opera - Ten Years from Its Institutionalization
Monday, 28 January 2013 , ora 9.28

What do Marius Moga, Connect-r, Francisco Tárrega, Leonard Bernstein și Cole Porter have in common? Of course, the enumeration may seem unusual at first sight, but, at a closer look, we realise that the success of such names, irrespective of the style they approach, is basically related to the magic of music, which reverberates in each of us at different levels, according to our own subjectivity. "The Magic of Music" - as this performance, that has already received innumerable awards, is entitled very suggestively - was presented by the Children's Comic Opera on Friday, 25
th
January, 2013, at the ten year-celebration since its institutionalization. It underlines this very stylistic diversity, mixing together famous modern choruses, dancing, musical pieces, but also endeared arias from children's opera performances.
As a singular institution on the Romanian music stage, the Children's Comic Opera successfully covers a niche not approached by many - that of a wide, diverse and syncretic repertoire, which comprehensively satisfies hit, dance, musical, operetta and opera lovers altogether. Having won eighteen international awards, twenty-eight national awards and having toured more than eleven countries across Europe, North America and Asia during the last years, the Children's Comic Opera stands out as a mature institution, with solid goals and constant success to the public. On the evening of 25th January, the hall of the institution in the capital city was crammed with kids. On seeing their enthusiasm, their movements coordinated to those of the dancers' on the stage, their smiles and applauses, their admirative silence or, on the contrary, the screams brought about by a piece of work that surprised or impressed them, I understood even better the effect the magic of music can have upon their souls.
What the Children's Comic Opera means to the public could be clearly seen on Friday evening. But what does it mean to its manager and founder, Mrs. Smaranda Oțeanu Bunea? She reveals it below:
"Every year is a great experience. Ten years means a lot, yet still a few for the history of a theatre, but what happened in the last ten years - actually, fourteen, from its foundation onwards - is now history, of course. We now have at least two hundred performances a year, we travel across the entire world, as it is well known, we've got about eighteen international and twenty-eight national awards. We've got around sixty titles in our permanent repertoire and over sixty thousand children coming to watch us every season. And presently, we host all kinds of performances in this wonderful hall - from classical and academic opera to academic ballet, modern ballet and musicals. The repertoire is diversified and catchy - children come to see Pygmalion, but also Cinderella - I'm referring to ballet - The Barber of Seville and now also Gianni Schicchi. They've got the chance to learn what classical and romantic music and modern ballet mean, and applaud performances such as The Magic of Music - a mosaic in which we militate for good music, be it in the shape of a chansonette, a modern dance, a musical and so on."
In the end, we were curious to find out what the Children's Comic Opera means for the career of two of its most important members.
The soprano Raluca Oprea:
"This is a truly special place. I'm glad that I weekly get to enjoy a distinct, extremely picky audience. It's a place that brings out the best in me and makes me want to surpass my limits. Our performances are different, they focus on movement and visuality... Somehow, I've tried to overcome my condition of mere singer who stays on the stage and does nothing else but sing."
The tenor Andrei Lazăr:
"The last five years have been really nice: I've learnt a lot, I've had the opportunity to face an unforgiving, truly difficult audience - children - that notices every single mistake and doesn't forgive it that easily. Happily, I've had the chance to become free-and-easy on the stage, next to my colleagues and children, I've also learnt to interact with them and have become more flexible and able to improvise more than my colleagues from other lyric theatres in the country."
Ioana Marghita
Translated by Elena-Mădălina Marin and Elena Daniela Radu
MTTLC - Bucharest University